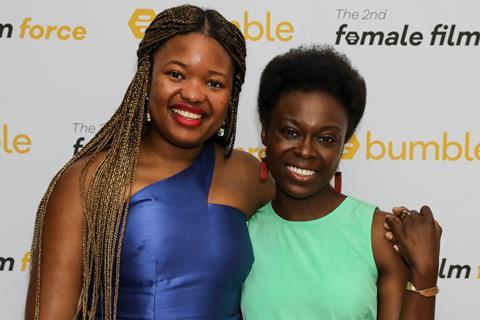 Social networking app Bumble has selected five shorts to fund through its £100,000 Female Film Force (FFF) initiative for 2019.
The programme, which launched last year to 'encourage women to make the first move, to stand up and tell their stories', returns in an expanded international format. It has chosen two projects from the UK, and one each from France, Germany and Ireland. Each will receive £20,000 towards production costs.
From the UK are Ma'am by writer-director Joy Wilkinson and Sunita, co-written by Joan Iyiola and Chibundu Onuzo; Claire Byrne represents Ireland with Ascending Grace, written by Karen Healy; French director Julie Robert is making Et Chacque Nuit, co-written by Céline Le Thérisien and Maëva Poupard; and Viva La Feminista is a documentary by German director Silke Meya.
Scroll down for the full list of projects
The five were chosen from a shortlist of 10, all of which pitched to a panel of industry experts in London earlier this month. The scheme received over 1,300 pitches this year.
The filmmakers will be supported by mentors throughout the filmmaking process, connecting them with industry figures to guide and empower them.
The judging panel, who will also act as mentors, included Sister Pictures' Jane Featherstone, broadcaster and script editor Emma Freud, filmmaker Maike Mia Hohne, actress Stacy Martin and producer Marianne Slot.
All the projects have all-female teams of writers, directors and producers, with aims to achieve 50/50 gender representation on their extended production staff.The films will be delivered by and showcased at a dedicated event in January 2020.
Last year's shorts were all delivered by January 2019 and are now being entered for international festivals.
Director Georgie Yukiko Donova is now working on a feature version of her FFF short AMA. "The FFF gave me the confidence and drive to keep pushing forward," she explained. "Since completing my film, I have been asked to develop and pitch new documentary ideas, as well as a feature length version of my FFF film AMA. But more than that, it has given me a community of like-minded badass women. Everyone is endlessly supportive and driven to see not only their own success but that of all of us who went through this experience together - we're a very lucky bunch indeed."
Female Film Force 2019 projects
Ma'am (UK)
Dir-scr Joy Wilkinson
Prod: Jude Goldrei
When a doctor warns mother-of-nine Queen Victoria she cannot risk a 10th child, she spirals into postnatal depression.
Sunita (UK)
Scrs: Joan Iyiola, Chibundu Onuzo
Prods: Joan Iyiola, Chibundu Onuzo, Millie Marsh
When challenged over her natural hair, British-Nigerian Dolapo enters the consciousness of a young Indian girl whose hair was shaved to make her wig.
Ascending Grace (Ire)
Dir: Claire Byrne
Scr:Karen Healy
Prod: Sharon Cronin
Two constrasting personalities clash in the cockpit of plane taking passengers on a trip from Ireland to Lourdes.
Et Chaque Nuit (Fr)
Dir-prod: Julie Robert
Scrs: Céline Le Thérisien, Maëva Poupard
Lea's relationship with girlfriend Maud is tested when she tries to capture the deer-like creatures she sees on film.
Viva La Feminista (Ger)
Dir: Silke Meya
Documentary about the lives and family situations of six children from Berlin.