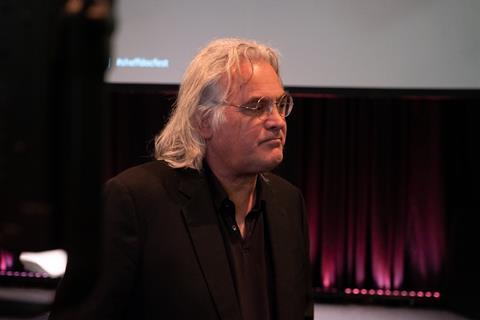 Filmmaker Paul Greengrass has spoken out about the need to widen access to jobs in the creative industries, describing the sector as "more meritocratic" when he started his career in the 1970s.
In a discussion event with journalist and curator Danny Leigh at Sheffield Doc/Fest on Friday June 7, the Jason Bourne and Captain Phillips director said, "When I started… it was more meritocratic because the unions were strong, and you didn't get hired without a proper contract."
"It's still far, far too reliant on networking, which will always privilege those of us in the industry, our children and those who we know, and private schools. Those entrenched networks that prevail in modern Britain have a great and deep presence in film and TV. The distance to travel in terms of inclusivity is profound."
Commenting on the training process for those entering the profession, Greengrass said, "There was a culture of filmmaking being passed down from hand to hand. There are many more opportunities today, but if you are a young filmmaker, that quality of being mentored is the critical thing."
He did, though, note representation in the industry has improved significantly in the past four decades. "It was a narrow world, an unbelievably male world – shockingly un-diverse in every way. It's a transformed situation. Our creative industries in the UK have never been stronger – we've never been in a better place to create more product that the word wants."
Speaking to Screen after the event about how he believes the situation could be improved, Greengrass praised the London Screen Academy established last year by senior industry figures including Tim Bevan and Eric Fellner of Working Title Films, David Heyman of Heyday Films, Barbara Broccoli and Michael G. Wilson of Eon Productions, and Lisa Bryer.
"That school is going to make a profound difference to our industry in 10 years time. We need 25 schools like that – if we had that, we would really get somewhere, because straight away, a young person would go 'I want to go to that school.'" The school will open in Islington, London in September 2019.
Digital education needs to be improved across all creative sectors, Greengrass added. "We have spent 20 years teaching computers as an exercise in coding, in order to train accountants. We're not doing nearly enough to develop software as an area of creative exploration. That is where modern economies are going to be in 25 years-time."
He said these issues affecting the creative sector were connected to wider social problems in the UK. "Something is trying to be born in this country. People say it's a Brexit logjam – it's much bigger than that, it's a logjam that's been building up for decades, and it's going to break. Not in a terrible, violent way – we're going to move on."
Increasing socio-economic diversity was a hot topic at this year's Doc/Fest, with other events including a panel called 'Breaking The Class Ceiling', with speakers including BBC Three controller Fiona Campbell, journalist and documentarian Billie JD Porter, filmmaker Paul Sng, writer Kieran Yates, and producer Victoria Musguin-Rowe. It was hosted by Leigh.