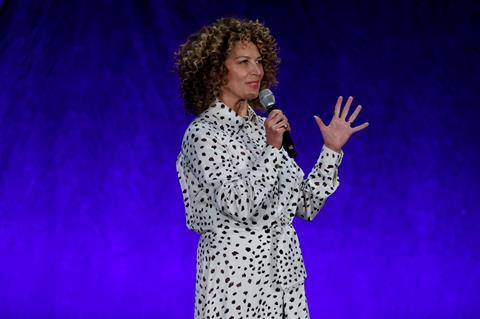 Universal CinemaCon rounded out a bumper CinemaCon presentation with footage from Jurassic World: Dominion after teasing more than a dozen upcoming films after Universal Filmed Entertainment Group chairman Donna Langley assured attendees that "theatrical will always be the cornerstone of our business".
Jeff Goldblum and Bryce Dallas Howard teed up footage from Colin Trevorrow's latest instalment in the $5bn global franchise, which opens on June 10 and takes place in a near future where dinosaurs and humans live and hunt alongside eac other. The cast includes Chris Pratt, Laura Dern and Sam Neill.
The studio kicked off its presentation with early footage from Jordan Peele's horror sci-fi Nope. The writer-director shot the film on 65mm for Imax and introduced a clip following a brief exchange with a theatre manager, the first exhibition employee paired with talent on each title in the session by way of a thank-you to the sector's work during the pandemic.
Nope stars Daniel Kaluuya in the story of Californian residents who make a chilling discovery. The film takes place in a near future where dinosaurs and humans live alongside each other and also stars franchise regulars Chris Pratt, Laura Dern and Sam Neill and opens on June 10.
Jamie Lee Curtis took to the stage to cue up footage from Halloween Ends (October 14), Blumhouse's final instalment in the horror franchise directed by David Gordon Green. Curtis said Laurie Strode, the woman who has defied her psychopathic on-screen nemesis Michael Myers since 1978, has been "the role of my life". The film opens in October.
A highly entertaining Curtis thanked theatre workers for "putting up with assholes" (the paying public) and keeping the theatrical business alive and noted of her character: "I see her standing up for so many women who have faced their own figurative boogyemen."
The studio also showed trailers from M3GAN (January 13, 2023), from producers Jason Blum and James Wan and starring Allison Williams in the story of a life-like robotic doll with a mind of its own; Idris Elba rogue lion survival story Beast (August 19) directed by Baltasar Kormakur; and Jay Chandrasekhar's Jo Koy comedy Easter Sunday (August 5); and Andre Ovredal's vampire horror The Last Voyage Of The Demeter (January 27, 2023).
Like all the executives in the session president of distribution for Universal Pictures International Veronika Kwan Vandenberg thanked exhibition partners for their perseverance in tough times and introduced Illumination Entertainment's Minions: The Rise Of Gru (July 1) star Steve Carell.
Billy Eichner talked up Judd Apatow-produced Bros (September 30), the first gay rom-com from a major studio. He noted the film features openly LGBTQ actors – "even in the straight roles" – and cajoled attendees playfully with a serious message: "I'm telling you, gay people are good for business."
Attendees also got to see a trailers for Ticket To Paradise (October 21)
Ol Parker's rom-com starring an energetic Julia Roberts and George Clooney as a divorced couple who fly to Bali to stop their daughter from a doomed marriage.
Carey Mulligan and Zoe Kazan teed up footage from their upcoming #MeToo drama She Said (November 18) from Maria Schrader. They play New York Times journalists Megan Twohey and Jodi Kantor, who exposed the sexual assault allegations against Harvey Weinstein and earned the Pulitzer Prize for their investigation.
There was also footage from Violent Night (December 2), Tommy Wirkola's thriller about mercenaries who attack a wealthy home on Christmas Eve stars David Harbor and John Leguizamo; and Puss In Boots (September 23), in which Antonio Banderas voices the titular character in the latest story in DreamWorks Animation's popular Shrek spin-off.
Langley kicked off the session as she told attendees at The Colosseum at Caesars Palace, "My confidence in this industry has never wavered… theatrical will always be the cornerstone of our business and I'm here to tell you that we remain committed to offer you compelling content to bring people back to the box office."
President of domestic theatrical distribution Jim Orr introduced remarked the studio will release 25 films theatrically in 2002 – "10 more than any other studio" – and emphasised the importance of original stories alongside franchise fare.