Even China's unofficial ban on Korean content has not dampened cross border trade in entertainment IP.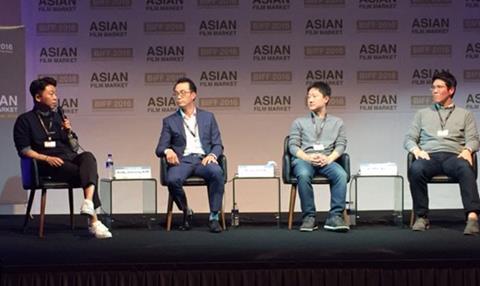 Korean technology execs discussed the growth in finance attracted to projects based on intellectual property (IP), including novels, comics and webtoons, at a financing seminar at the Asian Film Market on Sunday (Oct 9).
And despite China's unofficial ban on Korean content, they explained how entertainment IP is still being traded across borders, as Chinese producers continue to be eager buyers of hot Korean IP.
Andy Jiwoong Kim, CEO of TGCK Partners, described how his VC firm has pooled funds from both sides to invest in China-Korea co-productions, along with domestic Korean films. The company focuses on projects adapted from webtoons and novels, as they come with an inbuilt fanbase and lower risk.
"We're also working with Chinese studios that are investing in Korean webtoon companies and some animation companies that are interested in using Korean IP for animated features and TV drama," Kim said.
When asked whether the current political standoff between China and South Korea over the THAAD missile programme is affecting his business, Kim said there is no ban on Korean IPs being used to make 100% Chinese productions for the China market. However the ban does seem to be affecting Korean artists and directors working in China, along with China-Korea co-productions.
"The political issues are there, but we don't think this will be a prolonged issue and we're still at the development stage on a lot of projects," Kim said. "Korea and China both need to share their content."
Harry Yoon, chief content officer of SK Broadband, explained how the telecoms giant is using 'big data' gleaned from the internet to inform its production of animation content: "We have large quantities of big data analysis that we can provide to animation production houses." He added that the data is used to help producers decide on the genre of animation they should be creating and which age groups to target.
Jo Han Kyoo, director of Kakao Corp's contents business team, talked about how his company is also following the example of Chinese tech giants Alibaba and Tencent in using big data to enable more precise audience targeting.
"We now have the advantage of immediate consumer feedback provided by online platforms," Jo said. "That helps us target a certain niche, whereas in the past, traditional platforms could only focus on projects that were likely to be mass market. We can also have marketing that is linked to social networks."
The Kakao messaging and streaming app carries hundreds of webtoons on its platform, including titles such as Tong: Memories, which has recently been adapted into a movie.
Shin Hye Sung, CEO of crowdfunding platform Wadiz Corp, talked about The Hunt, a Lotte Entertainment-backed movie, starring Ahn Sung-ki and Cho Jin-woong, that used crowdfunding to finance its marketing campaign. Online investors were allowed to earn a return on their investment as the film hit certain box office goals, a move that has only been possible since equity crowdfunding was made legal in Korea at the beginning of this year.
"However some other projects have not been so successful," Shin said. "We're learning a lot about the difference between 'sponsors' and 'investors' and what kind of project does or doesn't work."