Panel held yesterday on the "vision for the future and reform" of the festival in Seoul.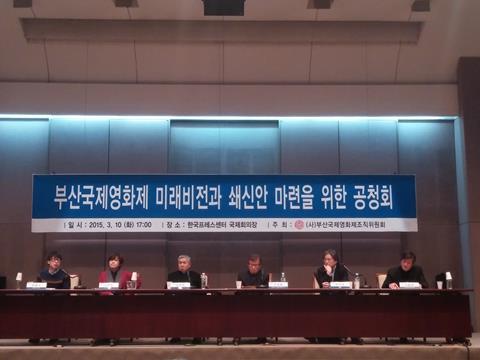 The Busan International Film Festival (BIFF) held a general public hearing for the "vision for the future and reform" of the fest, led by a panel of directors Im Kwon-taek and Park Chan-wook, producer Jaime Shim, professor Min Byung-lock, producer/distributor Stanley Kwak and BIFF director Lee Yong-kwan yesterday (March 10) in Seoul.
The hearing was held in part owing to a mandate from the Busan city mayor's office that the festival create a proposal for reform ahead of its 20th anniversary. This was in response to a large-scale film industry backlash against the mayor's request that Lee step down following the controversy of The Truth Shall Now Sink With The Sewol [see separate story here].
Panelists and observers deplored Busan City's efforts to interfere with the festival's programming, advised BIFF stop taking government money if necessary, and criticized Lee for proposing a co-directorship that would end in his leaving the fest within two years, creating a terrible precedent.
Taming freedom of expression
With less than three months to go before starting principal photography for his next film, Park, whose credits include Old Boy and Stoker, said he found the current situation in Korea so "lamentable" that he couldn't refuse the request to sit on the panel.
"In the midst of the whole of Korean society becoming a mess, I was thinking that the Busan International Film Festival was one of the few areas that was doing well despite everything, but if even this place gets like this, then what is going to happen to this country? Some people say that since it started with The Truth Shall Not Sink With Sewol, isn't it the politics and ideology of the film festival that's the problem? But I think it's the City rather than the film festival that is coloring it with ideology," he said.
"It's not as if the programmers, in the process of selecting, bringing and showing films have been selecting only films with particular leanings. Of the diverse spectrum of films, this is only one, and if you pick out a single film to take issue with it and go on the offensive with that, then I think it's the City, not the film festival, that is making it political. We can't look at this situation through a political frame of progressive or conservative ideology. We have to look at it as a problem surrounding freedom of expression," he said.
Kwak, head of the production and distribution company Indiestory, agreed that the general trend in Korea seems to be moving toward "taming" the freedom of expression, noting not much has changed since the last time he had to take part in a press conference on Feb 13.
The growth of Busan
Veteran director Im, with his 102nd film Revivre set for release next month, talked about the growth of the film festival and the growth of Korean cinema.
"I've been participating in film festivals in Europe since the 1980s and I found out back then how the status of Korean films was nothing. No one wanted to see Korean films, no one wanted to show Korean films, and there were no human resources to go diligently around to influence film festivals. I would go to film festivals and sit in the corner holding my breath, and I felt then that we needed a film festival of our own to connect with other festivals to introduce Korean films," he said, adding that the city had been deplored as a culturally impoverished city at the time the fest was started.
"The film festival has grown at a fast pace that defied expectations. There are other neighboring countries that have poured big amounts of money into their film festivals, but only Busan was able to grow to have such great influence," he said.
Recently, the international film industry including the heads of the Cannes, Venice and Berlin festivals have been vocal in their support of BIFF [see separate story here].
Shim, whose production company Myung Films, was a major player in the renaissance of Korean cinema with films such as Park's Joint Security Area/JSA and Kim Ki-duk's The Isle, deplored the fact that they even had to talk about the festival in such circumstances.
"The Busan film festival is turning 20 this year, and so is Myung Films. For the Korean film industry to develop and grow to this point, the government, the Korean Film Council and film industry people all made efforts and changes together and created this history of 20 years. It's perplexing at this point to be told to create a proposal for future vision and reform," she said.
Killing Busan
Im said that from the standpoint of a filmmaker, "Who would come to a film festival where subject matter or anything is limited by the interference of the hosts? If this situation ends badly, the Busan film festival will be ruined. With all the enthusiastic people who helped grow the film festival. Busan City may have played the host, but it will be Busan City that kills the festival."
Park agreed no self-respecting filmmaker would send his film to such a festival.
"I would never go myself," he said. "Even the slighted damage to a festival's independence is the same as damage to the whole. That's the whole of 20 years of history. The moment you touch that, a film festival is no longer a film festival. If we don't want the film festival to shut down, we have to deal with this firmly."
A co-directorship?
Shim brought up the issue of the co-directorship that Lee proposed on Feb 17 in what seems to have been an old-fashioned gesture of taking one for the team. (Honorary film festival director Kim Dong-ho also tendered a letter of resignation to Lee after the mayor's Jan. 23 request that Lee step down, but was given back the letter right after the Berlin film festival last month.)
Panelists agreed it would set a terrible precedent if the festival director resigned, with no possible guarantee that the mayor or the next or the next would stay away from interfering with the fest's programming.
Shim acknowledged that Lee might feel a personal responsibility to protect the festival in his own way, but that it was misguided and he need to make a decision based on "responsibility to film history and to the times".
"It's a betrayal of your film industry colleagues and irresponsible. Stick it out to the end," said former organizing committee member Jang Gil-hwang from the audience.
Then don't take their money
Professor Min pointed out that it is not the prerogative of the mayor, even as chairman of the BIFF organizing committee, to fire Lee, but up to the board of directors – the fest being an incorporated body.
"The life of a film festival depends on autonomy and independence. If you want to look at it in terms of "vision for the future", how about when you hold the 21st edition next year, you start anew like you did at the first edition? Don't take the support from the national treasury or Busan City's budget. Start over with KW6bn or KW5bn instead of KW150bn," he said.
Former Asian programmer Young-jung Cho spoke up from the audience to say that the position of Busan was that of its original mandate to discover, introduce and support Asian filmmakers, but that it has also grown into "the Cannes of Asia" and shouldn't have to be diminished.
"If it's simply a question of budget and support, I think that could easily be overcome by other means. If the many people who have lent support and worked the way they have so that the Busan film festival's special position won't be damaged, it's a problem that can be overcome as much as you want," she said.
No going back
Im shared recollections of the military dictatorship era and warned against moving backwards.
"I think it was in 1984, I had a film called Kilsodeum [a.k.a. Gilsodom] at Berlin. At a gathering of journalists after the screening, I didn't get questions about my film, but about how censorship worked in Korea and how one went through the process of scriptwriting and so on. All the questions were in that direction back then. In those days, Central Intelligence Agency employees would come with you so you couldn't talk frankly about actual domestic circumstances for fear of them, but not only that, even if they weren't there, it felt like spitting at the sky [only to have it land on your own face] to answer and I had moments of injured pride," he said.
"Maybe it's because I have lived through such times that whenever I see similar things happening these days, I get startled. I hope this situation will be treated like an unnecessary disturbance and that Busan City will stop doing things to make itself a city that ruins a film festival that is doing well, and that film industry people can also make efforts and compromises so that we won't be pushed aside and have our pride injured by such actions."
Park ended with the declaration that whatever happens, you can't allow interference with festival programming.
"Whatever result comes of this situation, if it ends with the dark outlook that there will be interference with the programming, I don't represent the entire film industry but I personally will never go back to the Busan film festival. And I won't send any of the films I make either. I hope [Busan City] will make it so I'll be able to keep going to the film festival and seeing lots of films and discussing them with citizens and spending lots of money there, too!" he said, referring to the city's demands the fest somehow create jobs and help the local economy.
Comments and questions from the audience came hard and fast until moderator and journalist Lee Dong-jin asked for a response from someone from Busan City Hall. None was given, although a City Hall liaison to the fest was later spotted leaving the venue.