Asian Film Market's E-IP events were bustling but uncertainty over Chinese policy dampened the usual talks about Chinese-Korean collaboration and co-investment.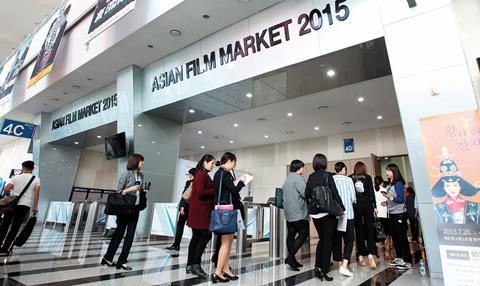 Although nobody wants to discuss it openly, one issue that overshadowed this year's Asian Film Market was the growing political tension between China and South Korea, which has been affecting the entertainment industry since August.
The problem stems to the US and South Korea's decision to deploy the US' THAAD missile defense system on the Korean Peninsula as protection against North Korea's nuclear threats. China has openly objected to the decision and appears to be retaliating by restricting South Korean cultural products.
The Chinese government has not made any official statements, but Korean actors, singers and filmmakers are finding it difficult obtain visas to work in mainland China, and China-Korea co-productions, in development or pre-production, appear to have stalled. According to Chinese buyers, Korean films and TV shows are no longer being approved for Chinese theatrical release and streaming platforms or for broadcast on Chinese TV.
However, co-productions approved before the issue arose in August appear to be fine. According to Chinese box office site Mtime, Chinese-Korean collaboration Making Family, starring Aarif Lee and Kim Ha Neul, is scheduled for release on November 4.
And so far there doesn't appear to be any restrictions on Chinese companies buying Korean novels, comics or webtoons to make into fully Chinese-language productions – or on Chinese-language remakes of Korean films.
This meant that the Asian Film Market's Book To Film and E-IP events were still bustling and continued to draw a large number of Chinese producers and buyers. Other Chinese companies such as iQiyi, Flame Node Entertainment and Tangcheng Cultural Media took booths in the market, where they attended as sellers.
But uncertainty over Chinese policy dampened the usual talk of Chinese-Korean collaboration and co-investment, while selling completed Korean films to China – not easy in the first place due to China's import quotas – has become a whole lot harder. "We're still looking to acquire Korean films but probably can't do anything with them for the next year," said one Chinese buyer speaking on condition of anonymity.
In the short term, the fallout is affecting both sides – some Chinese films are having to reshoot portions featuring Korean actors and promotional events involving Korean actors and singers have been cancelled. China's streaming sites may also be hit, as popular Korean shows such as My Love From The Star and Descendants Of The Sun are some of the top drivers of online video traffic.
But in the long term, the situation is likely to take a greater toll on Korean content producers, as China has become one of the biggest export markets for Korean films and TV shows. In addition, Chinese companies such as Alibaba, Tencent, Huayi Brothers and Huace Media have recently been investing in Korean production companies and talent agencies. Although the Chinese authorities have not said such activity is forbidden, it's likely Chinese companies will hold back on further deals until the situation is resolved.
And that could take some time. At the Asian Film Market's E-IP forum, TGCK Partners CEO Andy Jiwoong Kim, said: "We don't think this will be a prolonged issue and we're still at the development stage on a lot of projects." Other optimists were suggesting that China's young and developing film and TV industries still need to collaborate with more mature Asian markets.
But this is a political issue raging far above the heads of Korean and Chinese content producers, and both the upcoming US election and South Korea's late 2017 presidential election, could have an impact on the result. In the meantime, Korean producers may need to rethink their international strategies or focus on other territories for co-financing, co-production and sales.