Lee joined Hou Hsiao-hsien and Hirokazu Kore-eda at a special talk event in Busan.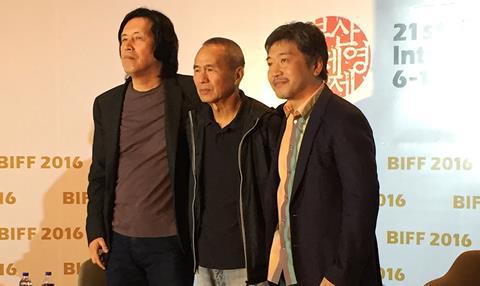 Korean director Lee Chang-dong gave a moving speech in support of former Busan International Film Festival (BIFF) director Lee Yong-kwan at the Special Talk: Three Masters event at the Busan International Film Festival (Oct 6-15) on Monday (Oct 10).
The event brought together three masters of Asian cinema – Lee, Taiwan's Hou Hsiao-hsien and Japan's Hirokazu Kore-eda [pictured] – to discuss the need for solidarity among Asian film-makers and the future direction of the Asian film industry. Inevitably, given BIFF's current political problems, the three directors also talked about the festival's future.
"Busan city officials and festival officials have failed to listen to our proposals – so I'd like to address cineastes and BIFF organisers," Lee said towards the end of the event. "When you go through hardships, your pride is hurt, and I believe the festival organisers and committee members have been deeply hurt, as they've been the targets of those who have attacked the festival."
Lee was referring to the long-running battle between Busan city officials and some of the BIFF organisers that has resulted in Lee Yong-kwan facing up to a year in prison.
He continued: "Former festival director Lee is no longer here with us – and is at risk of assuming criminal liability – and yet he has devoted all his heart to this festival for the past 20 years. We should be giving him a medal of honour and not just blaming him. This is not just painful for him but for everyone who worked with him at this festival. Our pride has been hurt and I want our cineastes and film-makers to keep their pride, so we can keep the pride of Korean cinema."
His comments drew warm applause from the audience, reflecting the mixed feelings of many festival-goers, who are glad BIFF has survived but are concerned that Lee is paying the price for its future existence.
As they are not local filmmakers, Hirokazu Kore-eda and Hou Hsiao-hsien were not so outspoken. But Hou said: "to lose BIFF would be a great loss for world cinema" and "I hope one day you'll be able to screen all the films in the world". Kore-eda said: "this is a good time to think about the future direction of the festival."
The three masters also discussed the importance of developing new talent and mutual support among established Asian filmmakers. Hou said he's currently working with a Taiwanese broadcaster that is raising a fund to back projects from five young filmmakers: "We should extend this concept to Korea or Japan. Taiwan is small so it would make a huge difference if we could combine our population with the Korean audience."
He then touched on another reason why cooperation may be important – the rise of the mainland China market: "China is the biggest market in Asia, so we need solidarity, because it can also be a difficult market to penetrate due to political intervention. But if we all gathered together it wouldn't be a problem."
The discussion also touched on the differences between Korea's young and dynamic film industry and Japan's relatively older industry. "Japan has more senior directors – I'm not saying that's not a good thing – but it can also be a difficulty," said Kore-eda, who was the youngest among today's three masters. "You need exchanges with the younger generation. Yoji Yamada has regular gatherings with young directors and that's an important initiative."
The three film-makers also gave juicy details about their upcoming projects. Lee, who hasn't made a film since Poetry in 2010, said he's preparing a 'mystery film' that should start shooting in the next few months. "It's not a mystery in the sense of a thriller. It's about young people today who see the world we're living in as a very mysterious world."
Kore-eda said he's moving away from his usual family dramas to make a thriller about a lawsuit connected to a murder. Following his success with The Assassin, which won best director at Cannes in 2015, Hou said he wants to make a smaller film exploring modern society. He added that it would be more like his 1996 tale of two petty criminals, Goodbye, South Goodbye.