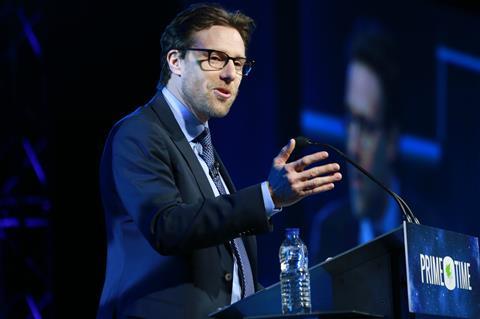 Canadian Media Producers Association (CMPA) president and CEO Reynolds Mastin said on Thursday (February 1) he would steer clear of commentary on last autumn's Netflix Canada announcement by Canadian heritage minister Mélanie Joly.
"As for the Netflix deal itself, I'd like to propose a Prime Time truce," Mastin said in opening remarks at the Prime Time conference in Ottawa, Canada. He was referring to the announcement in September that Netflix will open its first non-US production hub and commit CAD $500m to original Canadian film and TV over five years.
"As some of you may recall, I've occasionally said things on this stage that were not entirely aligned with Netflix's own public policy positions. Two years ago this led to a CMPA board resolution that I'm no longer allowed to insult sponsors in my opening remarks [Netflix is a grand sponsor of the two-day Prime Time conference]. In protest, I threatened to no longer do an opening speech at Prime Time. This did not seem to produce the desired effect."
'The CMPA and Netflix remain as far apart as ever on the big issues of the day'
Mastin thanked Netflix for its support of the conference as a 'grand patron', adding: "I'm also pleased to report that, having just read their very thoughtful and well-written submission to the CRTC [Canadian Radio-television And Telecommunications Commission] in its section 15 review of the future of our industry, the CMPA and Netflix remain as far apart as ever on the big issues of the day.
"But that's OK. We can agree to disagree on whether sovereign countries should be able to determine their own cultural destiny, or if this would be better dictated by foreign multinationals headquartered in Los Angeles or, say, Seattle. The important thing is to begin having a thoughtful dialogue about the future together."
The key theme of Mastin's wide-ranging address was the need for greater industry collaboration, particularly in light of forging a response to the sexual harassment scandal that continues to blight the entertainment sector, as well as the ongoing review of Canada's culture landscape, the ongoing issue of internet piracy, and the need to protect Canadian talent in a globalised economy.
"When we work together as an industry, we collectively move forward for the greater good," the CMPA chief said. "When we don't, we lock ourselves into a destructive cycle of playing one zero-sum game after another. Some we may win, some we may lose. But in the meantime, we devote precious resources to fighting increasingly old and stale battles. Even worse, we then leave it to external forces to dictate our fate, rather than sitting down and solving our own problems."
Draft code on workplace conduct
A draft code of conduct addressing workplace rules in light of the entertainment industry's sexual harassment crisis is in the works following a meeting last November between the CMPA and the performers union for English-speaking Canada, ACTRA (Alliance Of Canadian Cinema, Television And Radio Artists).
"On top of this," Mastin said, "we are developing training programmes and more effective reporting mechanisms to effectively address bad behaviour when it happens, and to prevent it from happening in the first place. These measures are obviously not enough, and we all need to continue listening to each other, but it's a start."
Mastin noted how several years ago the CMPA and ACTRA partnered to lobby provincial lawmakers in Ontario to adopt legislation to protect child performers. More recently the CMPA, industry professionals and members of the public asked the government to send back to the CRTC its group licence renewal decisions for Bell, Corus and Rogers.
In response to that, Minster Joly has asked the CRTC to review certain areas including regulation of the digital sector, and that review is currently underway. Again stressing the need for industry solidarity, Mastin said Joly's upcoming review of the Broadcasting and Telecommunications Acts was an opportunity for various entities in the industry to find common ground in the interests of Canada's entertainment sector.
Brodcasters and producers must work together
"Our hope and expectation is that Canadian broadcasters will ask themselves how they can best work with their producer suppliers in a way that everybody wins," Mastin said. "Based on recent deals I'm seeing, few of our broadcaster partners appear to be asking themselves that question today.
"But at the same time, we as producers need to ask ourselves how we can help ensure that Canadian broadcasters are best positioned to compete against the foreign OTT giants that are operating in our territory."
Turning to indigenous talent, Mastin said: "Last year on this stage I urged all of us to get behind the creation of an Indigenous Screen Office. This year I'm pleased to report that not only has this come to pass, but that the director of the new ISO [Jesse Wente] will be joining us at Prime Time. Many of you need no introduction to Jesse Wente."