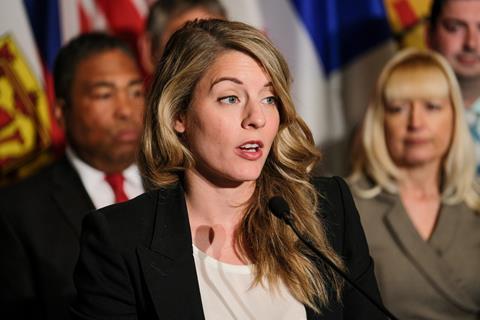 The Canadian government on Thursday announced Netflix Canada, which will see the streaming titan open its first non-US production company and commit CAD $500m (US $403m) to original Canadian film and TV over five years.
Heritage minister Mélanie Joly announced the development on Thursday (September 28). The move falls under the auspices of the Investment Canada Act and is the most eye-catching plank in the government's new Creative Canada cultural policy.
The partnership will be regarded as a win for Joly and proponents of Creative Canada as they seek to attract investment from international digital companies, while detractors will point to the absence of a tax levy on international streaming services and internet providers that they say could be used to fund Canadian programming.
The plan is in the early stages and Netflix declined to offer further details on the location of the upcoming production hub. Netflix will continue to work with Canadian producers, production houses, broadcasters, creators and other partners to produce original Canadian content in both English and French, and distribute across its global platform.
Netflix has agreed to support French-Canadian content through a CAD $25m (around US $20.1m) investment that will include pitch days for producers, recruitment events and other promotional and market development activities.
"The government of Canada is committed to growing our creative industries with new investments that create opportunities for creators and producers across the country to make great content that stands out," Joly (pictured) said.
"This agreement – the first of its kind in the world – will ensure the investment of more than $500 million in original production in Canada in both official languages. It signals a meaningful partnership in supporting Canadian creators, producers and Canadian creative work, and in bringing that work to millions of viewers around the world."
"Fans around the world are already falling in love with Netflix originals produced in Canada," Netflix chief content offer Ted Sarandos said. "Today's announcement affirms there's more to come as Netflix launches Netflix Canada, our permanent production presence in Canada. "We look forward to continuing our work with Canadian talent, producers, broadcasters and other local partners to create Netflix originals in Canada for many years to come."
"In a digital world, Canadian stories now have to compete with the best of the world," CBC/Radio-Canada president CEO.Hubert T. Lacroix said. "It's a challenge, but we believe they can compete and we're working hard to make it happen by supporting creators here at home."
Directors Guild of Canada national executive director Brian Baker welcomed the move. Looking ahead to Joly's Order-in-Council instructing the Canadian Radio-Television And Telecommunications Commission (CRTC) to review regulation for the digital sector, Baker said, "Of course, we're always glad to hear about more productions coming to Canada, we're a great place to shoot, but the Minister and the CRTC will have some big questions to answer.

"Are we talking about Canadian programming, or American shows shot in Canada with American talent in all the top creative functions? How much will be in French? Is this Netflix announcement a one-off, or the first step towards a real policy?"