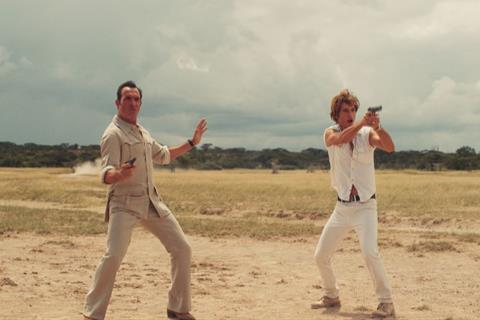 Nicolas Bedos' French spy spoof OSS 117: From Africa With Love, starring Jean Dujardin, is to close the 2021 Cannes Film Festival on July 17.
The third instalment in the OSS 117 franchise will receive its world premiere at Cannes, under the banner 'final screening' rather than 'closing film'.
French writer/director Bedos is the Cesar award-winning filmmaker whose time-travelling romantic comedy La Belle Époque played at Cannes, out of competition, in 2019.
OSS 117: From Africa With Love was originally set for a theatrical release in France in February but was delayed as a result of the ongoing pandemic. Gaumont, which also handles sales, will now release the film in French cinemas on August 4, 2021.
Dujardin returns as the accident prone, politically incorrect secret agent, who this time has a young rival and partner agent, played by Pierre Niney.
The popular franchise was originally created by Oscar-winning director Michel Hazanavicius as a tongue-in-cheek adaptation of late French writer Jean Bruce's popular spy novels of the 1950s and 60s.
The first two films directed by Hazanavicius – OSS 117: Cairo, Nest Of Spies in 2006 and 0SS 117: Lost In Rio in 2009 – remain hugely popular in France.
In Bedos' revival, it is 1981 and OSS 117 has been sent on a mission to Africa to help out a president under attack from rebels, covertly led by his young wife. Along the way, he has to contend with the rise of feminism, computer technology and the Cold War as well as the arrival on the scene of up-and-coming young agent OSS 1001.
The French-language feature is produced by Mandarin Production.
Cannes said it has renamed the closing film event as the 'final screening' to "rekindle the tradition of the last screening, drawing inspiration from the huge evening galas" of previous editions.
The 74th edition of the festival will take place from July 6-17, opening with Leos Carax's Annette. The awards will be announced on July 17 by a jury presided over by the US filmmaker Spike Lee.