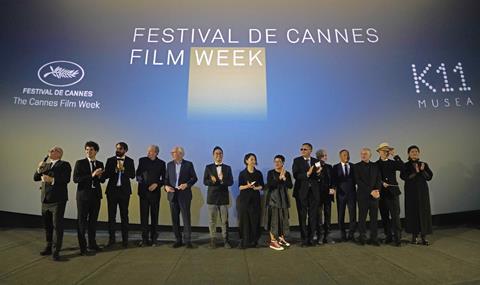 The first ever Festival de Cannes Film Week in Hong Kong opened last night with a ceremony attended by leading local filmmakers such as Wong Kar Wai, Johnnie To and Ann Hui, and a screening of Un Certain Regard best actress winner On A Magical Night.
However, the ceremony at K11 Musea in Victoria Dockside was a muted affair, compared to what had originally been planned, and a red carpet event with French and Hong Kong stars was cancelled.
As the event got underway, a pitched battle was taking place between police and protestors on the campus of the Chinese University of Hong Kong that continued throughout the night. On the previous day (Nov 11), Hong Kong had seen some of the worst violence in six months of protests, with one man being shot in the abdomen by police, and another set on fire.
Cannes Film Festival general delegate Thierry Fremaux says he was on the plane to Hong Kong on Monday when the unrest escalated. Upon landing he consulted filmmakers and other friends in the city about whether the event should still go ahead. "From what we've been told, it's better to be here and have life keep going on, and for us it's a way to support the city and be here with people," Fremaux says.
"But we didn't want to say Cannes is here, roll out the red carpet. We're keeping it focused on the cinema, the auteurs and talking with the audience. For my own interest, I want to know who are the spectators for cinema today here in a city like Hong Kong."
The Film Week (November 12-17) is presenting six films from the Cannes 2019 selection, including three competition titles – Jean-Pierre and Luc Dardenne's Young Ahmed, which won best director, Celine Sciamma's Portrait Of A Lady On Fire (best screenplay) and Marco Bellocchio's The Traitor.
In addition to Christophe Honore's On A Magical Night, which won best actress for Chiara Mastroianni, two other Un Certain Regard winners are being screened – The Invisible Life Of Euridice Gusmao (Un Certain Regard prize) and The Climb (Coup de Coeur Award). The schedule also includes a masterclass by the Dardenne Brothers and a presentation by Fremaux on the works of the Lumiere Brothers.
Fremaux says the selection was made in consultation with Hong Kong distributors and other industry figures: "I would have loved to bring Bong Joon Ho's [Palme d'Or winner] Parasite here, but it has already been released in Hong Kong. We thought it would be better to bring some unknown or upcoming films, and perhaps also help the career of some films in Asia."
Cannes first held a Film Week ten years ago in Buenos Aires, where it co-organises the Ventana Sur market, and is now exploring how to expand the concept. Fremaux explains that the idea is to take "the symbolism and spirit of the festival" to key filmmaking cities around the world, to increase communication with their filmmakers and producers, and share the Cannes official selection with local audiences.
"We need to ask what is the position of cinema these days within this big new world of filmmakers and platforms," Fremaux says. "The world is changing and I don't have any solutions, but I have some ideas and want to discuss them with people around the world."
Although nothing is planned, Fremaux says it would make sense to hold a Film Week somewhere in Africa, tapping into the burgeoning filmmaking scene there, and also in Lebanon, as a window into Arabic-language cinema. "Cinema is worldwide so we need to move away from this idea of only having a dialogue between Europe and America."
Hong Kong was the obvious place to start in Asia, Fremaux says, due to its position as a gateway into the region and strong cinematic legacy. "I grew up watching the films of Bruce Lee and John Woo, then later Johnnie To and Wong Kar Wai. I was totally passionate about the films of John Woo, which didn't fit conveniently into what Cannes was supposed to be, but he was reinventing the film noir. He wasn't the 'official' taste, but he was my taste, and I'm not alone on that."
Although Cannes chose Hong Kong, as opposed to Beijing or Shanghai, for its first Film Week in Asia, the festival is not working with the city to the exclusion of mainland China. Fremaux says he finds China interesting due to the recent explosion of its cinematic infrastructure. "People tell us that the future is platforms, but China has opened so many theatres in recent years." Cannes also works closely with Shanghai International Film Festival (SIFF), and last month, Fremaux screened SIFF's restored version of Hou Hsiao-hsien's 1998 drama Flowers Of Shanghai at the Lumiere Festival in Lyon.
Cannes has partnered on its Hong Kong event with Adrian Cheng, founder of K11 Group and executive vice chairman of New World Development. Although Cheng is a keen supporter of the arts, Hong Kong's property tycoons have come under fire in recent months for contributing to civil unrest through their role in the city's stratospheric property prices. New World's latest development, K11 Musea, will do little to dispel concerns over social inequality. Overlooking the Hong Kong habourfront, the opulent mall, offices and apartments complex is being pitched as a cultural space that also exhibits artwork and houses a premium cinema. Managed by UA Cinemas, the K11 Art House has 12 screens, including an IMAX Laser projection system.
But while it seems odd to don black tie when the city is effectively at war, the local industry appears to welcome this endorsement of Hong Kong cinema and the encouragement it could give local cinephiles and filmmakers. Other local industry figures to attend included former Cannes attendees such as director Flora Lau, actor Simon Yam, cinematographer Christopher Doyle and producer Bill Kong. Fremaux says he hopes the Film Week in Hong Kong will become a regular annual event, although a decision will be taken based on the response to the first edition.