EXCLUSIVE: Deal marks company's first foray into the action genre; film set to shoot in Athens in September.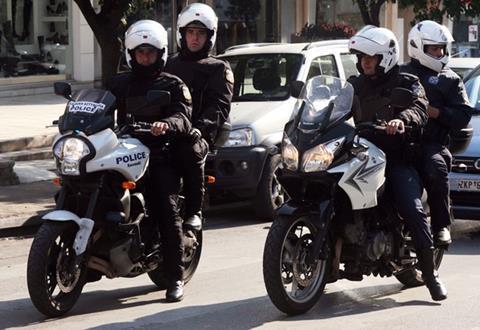 Paris-based Memento Film International (MFI) will kick-start sales at Cannes on UK director Jonathan English's Athens-set action-thriller Dias, which is due to shoot in the Greek capital in September.
The film revolves around the city's elite police motorbike force, the Dias, consisting of four-person squads travelling two-by-two on high-powered vehicles. The force was created in 2010 in response to a rise in petty and organised crime after the debt crisis threw the country into chaos.
The story will follow energetic young recruit Theo, who quickly becomes a pivotal member of the force as it presses on with its work of eradicating the city of violent crime gangs but in the end becomes their target too.
"I was in Athens in 2013 and I saw the Dias units fly through the city," said English. "There was something particularly dramatic and impressive about these two motorbikes, carrying four officers, swerving through traffic and heading to a crime.
"I then had an opportunity to meet some officers in the unit and to hear about their personal experiences. After that, I was captivated. This one unit was in a car chase that lasted 45 minutes through the centre of Athens and also in several gun battles. It was like listening to a Hollywood action movie, except this was real, and happening on the streets of Europe, he continued.
The production marks a change of scene for English whose last two films Ironclad and sequel Ironclad: Battle For Blood, were set against the backdrop of medieval England. It will reunite him, however, with DOP Zoran Popovic and editor Laurens Van Charante, who both worked on the Ironclad sequel.
Pre-production, including casting, is currently under way in Athens. The film will shoot in September and will be ready for delivery in spring 2017.
First action film
It is the first action film for MFI, better known for auteur-driven crossover titles, award-winning US independent fare and genre works.
"Yes, an action film at Memento, finally! It took a while, but now we have the perfect project. The script is tense, full of very rich characters and through the level of details, you get that Jonathan spent a lot of time with the special force DIAS," said Tanja Meissner, MFI's head of sales and acquisitions.
"We immediately thought of it as a Besson-like version of Elite Squad, but on motorbikes in Athens," she added, referring to Brazilian director José Padilha's 2007 hit about a special police force in Rio de Janeiro.
The stunt team will include Evangelos Grecos, whose credits include Spectre, Jason Bourne and Avengers: Age Of Ultron and Slavisa Ivanovic, who worked on EuropaCorp's 3 Days To Kill and District 13. Muhamed M'Barek, whose credits include The November Man, 3 Days To Kill, The Forest and Chernobyl Diaries, will supervise special effects.
It is a $4.5 (€4m) co-production between Athens-based View Master Films and Germany's Black Forest Films, which previously co-produced English's 2006 film Minotaur.
"When Jonathan told me about his idea to make a film about the Greek special force Dias I was captured by the strength and uniqueness of the story," said Black Forest Films chief Christoph Hahnheiser.
"A story hardly anyone knows about happening in a European country and told in a very exceptional way: thrilling, entertaining, full of action but at the same time touching and dramatic, portraying a country and the life of people affected by the Greek crisis and international and European politics."
MFI will be launching pre-sales at Cannes.