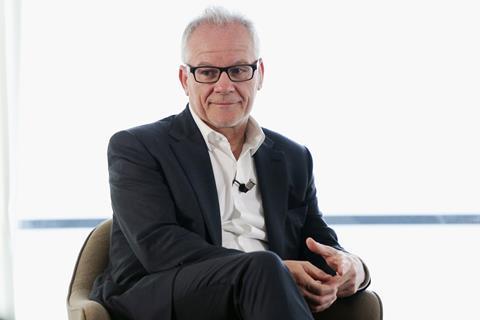 Cannes delegate general Thierry Frémaux and festival president Pierre Lescure unveiled the bulk of the Official Selection for the 74th edition of the Cannes Film Festival at its traditional press conference at the UGC Normandie cinema in Paris on Thursday (June 3).
Unlike last year when the pair announced to an empty cinema theatre the 2020 Cannes label selection, put together to support films in the absence of a physical edition due to the Covid-19 pandemic, journalists and a smattering of other cinema professionals were back in the stalls.
Constructing the Cannes Official Selection is always a complex operation that often goes down to the wire. This year, Frémaux appeared to receive a message confirming Sean Penn's Flag Day for Competition midway through the press conference at the same time as he read a written note dictated by French director Jacques Audiard regarding the locale of his Paris-set Palme d'Or contender Paris 13th District.
A large part of the press conference was taken up with questions around the health protocols that will be in place for festival-goers, and whether the festival had updates on travel restrictions and quarantine requirements that could keep many international attendees away, particularly from the UK and US.
Frémaux and Lescure both put up a tentatively positive front, expressing hope that the situation will have improved sufficiently for as many artists and films professionals to enjoy a special reunion on the Croisette this July (6-17).
Screen caught up with Frémaux to discuss this year's edition and its Selection after the conference.
You revealed at the press conference that the festival has extended an invitation to the directors of the 56 films feted with a Cannes 2020 label selection last year. Are many coming?
For now, most want to come. A few won't be able to make it because they're shooting, or for other reasons. Their presence will be spread throughout the festival. Sadly, we won't be able to show their films but we will honour them.
One of the challenges has been accommodating the raft of French features vying for a place in Official Selection. Was it tougher than normal breaking this news to those not selected?
It's always complicated. The final days before the announcement are always full of both joy and sadness. Joy, when we make a director happy with a selection and then sadness, because we make people unhappy, and some unhappy people even unhappier.
It wasn't just the French; it was a similar situation for many other directors in the world. At the end of the day, we have six French directors in Competition and we need to look after filmmakers from other parts of the world too.
Was it harder to remain truly international as a festival this year, given the surfeit of local films and the difficulties around travel?
Not really. We screened films from all over the world pretty spontaneously and we've ended up with a very strong global selection. It's at the heart of Cannes's identity to be very international.
The only country where there was really any difficulty was the US. Even though the pandemic is being brought vigorously under control there, thanks to the vaccination programme, some studios have yet to reopen their offices.
That's why we're particularly happy to welcome independent American films like those of Sean Penn or Sean Baker as well as artists like Wes Anderson, who works with the studios. Universal is also very present with the film of Tom McCarthy [Stillwater]. Some of our friends at the studios were sad to not be able to present films, but they'll be back.
Given the complex circumstances surrounding this year's edition, were you tempted to tear up the rule book and do something completely different?
We thought about running an extra day or selecting a lot, lot more films because so many people wanted to come. In the end, we had to think of Spike Lee and his jury and allow them to work under good conditions. One of the key elements of this year's Cannes is that it will be a reunion, an extraordinary party.
The UK usually attends with one of the largest press and industry delegations but travel to France is effectively banned for UK nationals at the moment due to Covid-related restrictions. Are there plans to hold screenings in London for professionals unable to make it to Cannes?
If I say yes they won't come to Cannes, so I won't say yes [laughs]. My real hope is that the health regulations will be such that professionals from the UK will be able to attend. That said, we've already been looking at ways to multiply screenings in June so that the press can work in good conditions, whether that be in Paris, New York, London, Rome, Tokyo. The important thing is that we can work with the journalists and critics so that when they arrive in Cannes they have seen some of the films. For this year, the festival is still five weeks away and we really hope that the travel situation will have improved and that getting to Cannes will be widely possible.
Who would oversee these screenings?
We can authorise certain screenings [so they don't contravene Cannes regulations] but they are then in the hands of the rights-holders, producers, press agents and distributors.
Cannes has got behind efforts for more female representation in the film industry in recent years, but just 16% of the films in Competition are by women, against 28% in 2019, while women account for 18 of the 72 invited filmmakers announced so far across the Selection. In terms of Competition, couldn't the films of Andrea Arnold or Eva Husson [which are in the new Cannes Premiere section] have played in Competition?
It's more complex than that. There are women throughout the selection. For the six French films in Competition, it's 50:50 and there is perhaps a lesson to be learned from that. I also believe this Cannes selection gives reason to be optimistic for the future on this score. There are eight women in Un Certain Regard and this is the young cinema and the future of cinema.
There are still many countries in the world, however, where female directors don't exist. There's a history around this which is complicated, everywhere in the world, including in France. There was an absence of women directors and opportunities for women directors in the past for which we're paying the price now. But there are more and more female directors and are more and more female directors in Cannes and in the other big festivals. This makes me optimistic.
With regards to the place of women in cinema, Cannes signed the 50:50 charter and we work with a number of associations in France. We have brought more women into the staff and onto the board and the festival is in the front row of this movement, in terms of its expression of the importance of the force and talent of women.
When we make the selection, in cases where we're hesitating over two films, and one is by a man, and one is by a woman, we'll go for the film by a woman. The selection, however, is above all about the work and we don't look at either the sex or the race or the religion of the filmmaker.
On the other hand, Cannes is very universal and universalist and the geographical diversity of the selection has always been important. When a territory comes along and proposes a rare film such as that of the young director from Haiti who is in Un Certain Regard (Freda, Gessica Génésus], we will pay attention. It's a wonderful film. I hope she will progress and one day will end up in Competition.
We have our convictions and we shouldn't be the only ones who are questioned every year. There needs to be scrutiny of cinema schools and public policy on this around the world. In France, for example, the CNC ties some funding to certain gender parity criteria. Such public measures are very important.
The same question can be asked around diversity given that only 21% of the selected directors are not white.
My response is very simple. Spike Lee is the first black president of the jury, not just at Cannes but at any big festival. When such decisions are in the festival's hands it makes an effort to follow its convictions. Many people will say it's about time but [Cannes president] Pierre Lescure and I have only had a certain independence on questions like this relatively recently. Every time, it's possible, we keep to our convictions. But, once again, we can only select the films from what we are shown. This issue is part of a larger political issue that stems from the whole of society and also has historic roots. It's a global question, not just one for Cannes.
When we select a film like Nabil Ayouch's Casablanca Beats for Competition, it's a political act, but at the same time we selected it because it's a great film. We need to think globally, historically, scientifically even, about these questions.
Will you be releasing data for gender and race for what was submitted and what was selected?
We're currently working with a research agency on a study on gender parity and diversity throughout the history of the festival which will be released in the autumn. These are questions that we think about for now and for the future.
Can you explain the thinking around the creation of Cannes Premiere in more depth? Is it a permanent section or just for this complex year when there is a surfeit of films?
It's permanent. It's a section that allows us to show the work of certain auteurs without the obligation of showing it in Competition. You know once Fellini won the Palme d'Or [in 1960 with La Dolce Vita], he returned to Cannes on a number of occasions but never showed a film in Competition again. He said, "I don't want to be in Competition. I just want to show my films". Cannes Premiere is a place for the big directors to show their work without the pressure of the Competition. Eva Husson, for example, will show the film that she shot in the UK [Mothering Sunday]. Her experience in Competition [with Girls Of The Sun in 2018] went badly for her. It's better for her to come to Cannes and show her work under other conditions. It allows her to show her work and that she is an important filmmaker.
How has this new section been received by the directors and producers behind the submitted films?
Very well by the filmmakers and the press, I think. People have understood that Cannes is a cultural festival too and that it's good if artists can show their films under different conditions. The Rolling Stones sometimes do mega concerts in stadiums and other times, they perform in small venues. Think of it in those terms.
The question of Netflix's absence at Cannes came up again in the press conference. There were hopes that Palme d'Or winner Jane Campion might return Out of Competition with Netflix-backed The Power Of The Dog. Is this completely off the table?
I can only repeat that Netflix is very welcome in Cannes. We talk a lot but there is one key point of disagreement. Cannes has a rule that films in Competition must have a theatrical release in France. Films that don't fulfil that criteria play Out of Competition. Lots of studios are happy with this option. Netflix won't accept this rule and will only play its films in Competition. It's a shame. I regret this because I think a film can enjoy [being] a great film Out of Competition. Jane Campion, who has already won the Palme d'Or, could have returned Out of Competition, had a great Cannes and Netflix would have been given a hero's welcome. Netflix is an important cinema studio and does amazing work creatively, which is why we invited them in 2017. It was important for us to say they are important. It's for that, that I want to make it clear that there is no question of Netflix not being welcome in Cannes. We need to find a middle ground between our rules and their desires.
We heard that Searchlight parent company Disney was not keen for Wes Anderson's The French Dispatch to debut in Cannes due to ongoing concerns over the pandemic and cinema re-openings in Europe, even though the festival makes a perfect launchpad for the film. How did you manage to secure it in the end?
French Dispatch? I think Wes Anderson really wanted to come to Cannes and Searchlight really wanted to come to Cannes and I have to thank them. There was a lot of hesitation, especially between February and April, over whether Cannes in July was the right strategy. In the end, they decided yes. After Cannes, it will go to New York and then the Festival Lumiere [the heritage festival of the Institut Lumière in Lyon headed by Frémaux]. We're going to do a lot to support it. We learned a lot last year about how to accompany films outside of the festival. Our efforts only lasted three months because the cinemas were then forced to shut but we want to continue this work. It's important that the festival doesn't only give ephemeral support for two weeks but continues to support films throughout their careers.
Is it frustrating when an artist like Wes Anderson or Jane Campion wants to come to Cannes but risks not being able to because of a decision taken by the studio or platform that financed their film?
Of course, but at the same time, I understand that studios have their strategies, especially for the US studios which are more wedded to the awards season. May can seem a long way off from March the following year, but the awards season is above all a US tradition and Cannes is part of an international tradition. Maybe festivals in the autumn are seen as better destinations for films looking for an awards season career, but there are plenty of films that have launched at Cannes in May, like Parasite, and gone on to win Oscars the following March.
Will there be any more additions to the Official Selection in the coming weeks?
There will be a few things here and there. The Official Selection, the market and the presence of the press are all key components of Cannes, but Cannes is also a cultural event, especially this year. It's a festival of reunion where we're all going to try relaunch cinema and show how important cinema is for our lives.