Disney's latest superhero outing posts $10.1m (£6.04m) bow, including previews, to lead the way ahead of stablemate Muppets Most Wanted.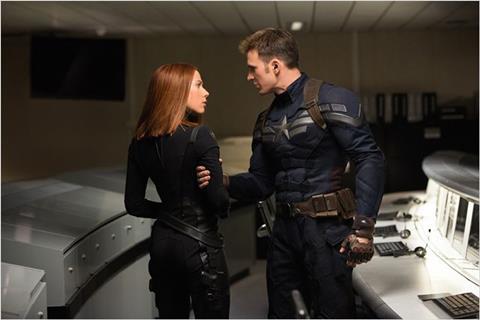 It's a Disney one-two at the top of the UK box office this week, with Captain America: The Winter Soldier in charge.
The latest Marvel Studios outing and second solo venture for the Cap posted a $10.1m (£6.04m) debut from its 536 sites, including $3.1m (£1.85m) in previews. It's worth noting that even The Winter Soldier's $7m (£4.18m) Fri-Sun tally would have seen it chart first.
That result is up on Captain America: The First Avenger's $5m (£3m) UK bow from 470 sites, and The Winter Soldier is likely to top The First Avenger's $15.8m (£9.5m) result by the end of this coming weekend, if not earlier.
In terms of Marvel outings, The Winter Soldier ranks as the fifth best, behind Iron Man 2's $12.8m (£7.7m) debut, which included $1.5m (£877,000) in previews.
Also for Disney, Muppets Most Wanted charted second with a $3.7m (£2.21m) debut from its 515 sites, including $1.7m (£1.03m) in previews. Its Fri-Sun tally of $2m (£1.18m) would have still seen it land second.
That's down on The Muppets' $4.4m (£2.7m) UK debut from 534 sites, without a preview boost, on its way to an excellent $28m (£16.8m). The sequel will have a tough time challenging that, although should receive a boost with the upcoming Easter school holidays.
FOX
It might have dropped from the top spot but The Grand Budapest Hotel fell just 31% in its fourth weekend of wide release with $1.4m (£867,000).
Fox's comedy drama is now up to a terrific $13.3m (£8m) and will surely become director Wes Anderson's best-ever UK performer, topping Fantastic Mr. Fox's $15m (£9.03m) result.
Also for Fox, Starred Up dropped just over 50% in its second weekend, adding $335,000 (£201,000) for $1.8m (£1.06m) to date.
While they won't be included in this weekend's official chart, Rio 2 has $1.1m (£683,000) banked for its opening this week after previews on Saturday and Sunday.
STUDIOCANAL
In a market affected by the good weather and two tentpole arrivals, Non-Stop held well in its fifth weekend to take $600,000 (£360,226) from its 328 sites. StudioCanal's high-concept thriller has now amassed $14.6m (£8.7m) and has an outside chance of hitting £10m.
Currently playing in 84 sites, StudioCanal's Under the Skin added $170,000 (£102,031) for $1.4m (£828,405) after three weeks in play. It could still top Birth's $2m (£1.18m) to become Jonathan Glazer's best-ever UK performer.
EONE
With almost a 70% drop in its third weekend, Need for Speed rounded off this week's top five with $562,000 (£338,000). eOne's video game adaptation has now taken $7.3m (£4.4m) in the UK.
Also for eOne, Yves Saint Laurent has a ten-day tally of $427,000 (£257,000) following an $86,000 (£52,000) second weekend.
Oscar winners Dallas Buyers Club and 12 Years a Slave stand at $8.6m (£5.18m) and $33m (£19.86m), respectively.
WARNER BROS
Now in its seventh week of release, The Lego Movie built up a further $537,000 (£323,000) through Warner Bros for $52.6m (£31.6m) to date.
Warner Bros' 3D sequel 300: Rise of an Empire has sliced its way to $12.4m (£7.4m) following a $394,000 (£237,000) fourth weekend.
LIONSGATE
Charting ninth on debut, The Legend of Hercules recorded a $316,000 (£189,881) opening from its 276 sites through Lionsgate. Director Renny Harlin's last major UK release, 12 Rounds, bowed with $544,000 (£326,804) from 300 sites.
Also for Lionsgate, A Long Way Down grossed $179,000 (£107,538) in its second weekend for $1.2m (£741,524) to date.
PARAMOUNT
Falling heavily in its second weekend, Paramount's Labor Day grossed $141,000 (£85,000) for a ten-day tally of $956,000 (£575,000). That is at least ahead of Jason Reitman's last UK outing, Young Adult, which managed $674,000 (£405,482).
ARTIFICIAL EYE
With one site still to report, The Past has recorded a $108,000 (£64,995) UK debut, including previews, from its 31 screens through Artificial Eye. That marks director Asghar Farhadi's best-ever opening, ahead of A Separation's $92,000 (£55,511) bow from 23 sites.
ALTITUDE FILM DISTRIBUTION
Oscar winner 20 Feet from Stardom posted a $102,000 (£62,162) UK debut from its 65 sites, including $12,500 (£7,495) in previews. The release is Altitude Film Distribution's first in the market, with an upcoming slate including Fruitvale Station and The Nightmare from Room 237 director Rodney Ascher.
SONY
Playing in 112 sites on its second weekend, About Last Night added $76,000 (£45,666) for $536,000 (£322,000) to date through Sony.
DOGWOOF
Released on one screen through Dogwoof, Dangerous Acts enjoyed a $2,600 (£1,572) UK debut.
UPCOMING RELEASES
This week sees saturation releases for Fox's Rio 2, Paramount's Noah and eOne's Divergent.
StudioCanal's The Double, Pinewood Pictures' Honour and Dogwoof's A Story of Children and Film are among the films receiving limited releases.