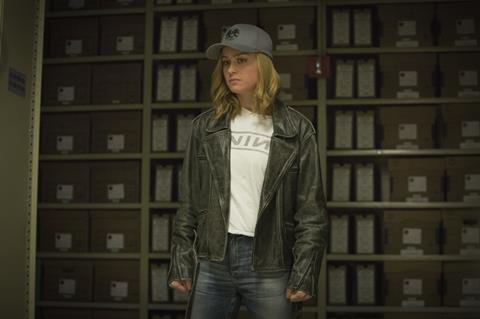 Led by Captain Marvel, Hollywood films took the four top spots at the Chinese box office in the week March 4-10, driving the total box office up 20.9% week-on-week.
Disney/Marvel's Captain Marvel powered into China, taking $85.1m from its first three days after opening day-and-date with North America and most international territories on Friday March 8.
It was the biggest opening weekend for a first film based on a standalone character in the Marvel Cinema Universe (MCU) and was the third highest MCU opening in China, behind only Avengers: Infinity War and Captain America: Civil War.
China was the film's biggest international market over the weekend.
Based around Marvel's first female lead superhero, Captain Marvel benefited from a high awareness in China of International Women's Day on March 8, which was also the film's opening date. It posted $34.2m (including midnight shows). Women receive a half-day off from work on International Women's Day, which has been rebranded locally as Goddess Day (or Queen's Day) to cater to young (not just married) women with spending power.
Captain Marvel more than doubled the debut of another female superhero film Wonder Woman and is almost on par with the latter's lifetime gross.
Best picture Oscar winner Green Book continued its brisk pace in its second week and climbed to second place in the seven-day period adding $26m for $42.5m after two weeks. The timely release, just four days after winning three Oscars, contributed much to its hype. After debuting in third place, it shot to the daily number one from Monday onwards until Japanese animation Natsume's Book Of Friends The Movie: Tied To The Temporal World came along on Thursday. It is now the second highest best picture winner in China, behind only 1998's Titanic (which was re-released in 3D in 2012 to great fanfare).
Both Universal/DreamWorks Animation's How To Train Your Dragon: The Hidden World and Fox's Alita: Battle Angel lost screens to Captain Marvel and almost tied in the same seven-day period. The former earned $14.4m for $46m after two weeks, while the latter dropped to the fourth place with $14m for $122.5m after three weekes, ending its short-lived one week reign at the top of the Chinese box office.
Japanese manga-based animation Natsume's Book Of Friends The Movie: Tied To The Temporal World is the only other new release that made it to the weekly top 10, taking in $12m from its first four days after opening on Thursday (March 7).
The Chinese New Year holdovers which are still in theatres on extended runs after the usual one month release round out the charts: The Wandering Earth on $9.4m for $655.6m; Pegasus on $1.7m for $243.7m; Crazy Alien on $0.4m for $313.1m; and animation Boonie Bears: Blast Into The Past on $0.4m for $101.2m to date.
A string of potential breakout hits are scheduled this week, including More Than Blue (March 14), My Hero Academia: Two Heroes, On The Balcony, The Crossing and Brother Of The Year (all on March 15).