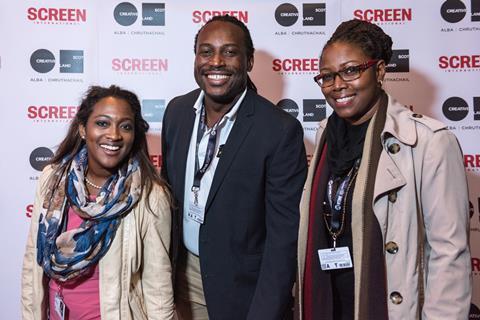 The films commissioners of Trinidad & Tobago and Jamaica are in Toronto meeting their counterparts as they explore ways to jointly promote the Caribbean industry.
Both commissions are swapping notes on how to educate their local investor bases in the ways of the film business.
"We're working to get investors to see the value of investing in local content," Nneka Luke (pictured at right), film commissioner at Trinidad & Tobago at Trinidad & Tobago Film Company (FilmTT), said. "It moves away from the model of the government being the only investor."
Jamaican film commissioner Renée Robinson (pictured at left with colleague Christopher Benjamin) at Jamaica Promotions Corporation (JAMPRO) is launching a $20m film fund and has formed a partnership with the World Bank to take a delegation of investors to Hollywood for introductory meetings in 2018.
Luke is also exploring ways to establish a foothold at the Ventana Sur market in Buenos Aires that takes place each December. Last year FilmTT became the first English-speaking commission to join the Latin American Film Commission Network. "We see a need to shine a spotlight on English-speaking content."
Robinson agrees. "We need to map out content that exists in the region, create talent discovery opportunities in the region and give them opportunities to be global players with global partners. We need to be at festivals and work with sales agents so the pipeline gets stronger."
Jamaica recently launched the Propella initiative, a collaboration between JAMPRO and JAFTA (Jamaica Film and Television Association) to assist five shorts filmmakers and to this end, the latest batch of winners will attend the Trinidad & Tobago Film Festival later this month.