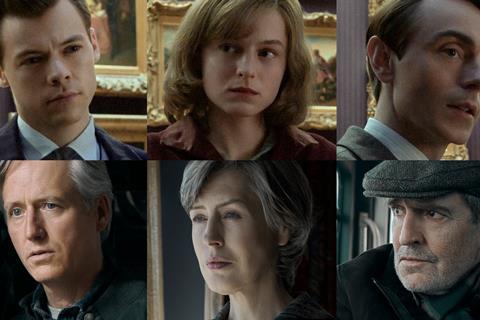 The cast of upcoming TIFF world premiere My Policeman – Harry Styles, Emma Corrin, Gina McKee, Linus Roache, David Dawson, and Rupert Everett – are the first film ensemble to receive the festival's TIFF Tribute Award for Performance.
Now in its fourth year, the award will return to an in-person gala fundraiser during the 47th edition of the Toronto International Film Festival on September 11 at Fairmont Royal York Hotel.
Michael Grandage directed for Prime Video from Ron Nyswaner's adapted screenplay based on Bethan Roberts' novel of the same name. The film follows policeman Tom (Styles), teacher Marion (Corrin), and museum curator Patrick (Dawson) as they embark on an emotional journey in 1950's Britain. Fast forward to the 1990's and Tom (Roache), Marion (McKee) and Patrick (Everett) are filled with longing and regret yet they get one last chance to repair the damage of the past.
"When your film shifts through time and across fluid boundaries of love and desire, you need a cast that can embody those nuances in every gesture," said TIFF CEO Cameron Bailey. "Harry Styles, Emma Corrin and David Dawson deliver beautiful, mirrored performances with Linus Roache, Gina McKee and Rupert Everett."
This is the first of two performances to be announced in the festival's gender-neutral acting category. Past recipients include Jessica Chastain and Benedict Cumberbatch in 2021; Kate Winslet and Anthony Hopkins in 2020; and Meryl Streep and Joaquin Phoenix in 2019.
Styles made his acting debut in Christopher Nolan's 2017 drama Dunkirk and can next be seen in Olivia Wilde's upcoming film Don't Worry Darling. My Policeman marks his first starring role. Corrin is best known for portraying Diana Spencer in Season 4 of The Crown. She reunites with Grandage this year to star in the play Orlando, and will also play the lead in the Netflix and 3000 Pictures film adaptation of Lady Chatterley's Lover, which is currently filming.
Dawson recently starred in espionage thriller All the Old Knives for Amazon Studios alongside Jonathan Pryce, Laurence Fishburne, and Chris Pine. On stage, he earned a Laurence Olivier Award nomination for playing Smike in the 2007 production of The Life And Adventures Of Nicholas Nickleby.
McKee's many film appearances include Atonement, Wonderland, Notting Hill and Phantom Thread. Everett first appeared on stage in 1981 as Guy Bennett in the West End production of Julian Mitchell's play Another Country and reprised his role in the 1984 film version which earned him a Bafta best newcomer nod. Among his film credits are My Best Friend's Wedding.
Roache's credits include Priest, Wings Of A Dove, Batman Begins, The Namesake, Blind Flight, Pandaemonium and Non-Stop.
The awards gala is TIFF's largest annual fundraiser to support its Every Story fund, which promotes diversity, equity, inclusion, and belonging in film and TIFF's core mission to transform the way people see the world through film.