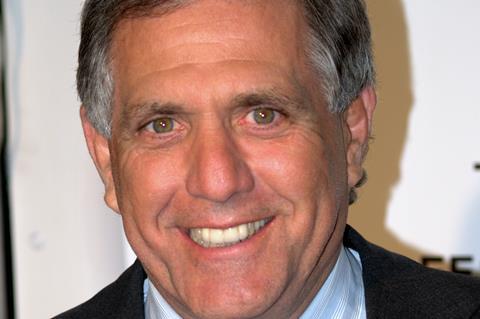 A New Yorker article published on Friday (July 27) in which six women claim sexual harassment by Les Moonves has prompted the CBS chairman and CEO to admit he may have made some women uncomfortable "decades ago" by making advances, but always understood "no means no" and never used his position to harm or hinder careers.
The article by Ronan Farrow, whose reporting on allegations of sexual misconduct against Harvey Weinstein triggered the sale of the Weinstein Company, contains allegations of improper behaviour spanning the 1980s to the early 2000s.
According to the report, four women including the writer and actress Illeana Douglas described forcible touching or kissing in business meetings, while two spoke of Moonves, 68, physically intimidating them or threatening to ruin their careers. All believe their careers suffered.
In the article Moonves issued a statement that read: "Throughout my time at CBS, we have promoted a culture of respect and opportunity for all employees, and have consistently found success elevating women to top executive positions across our company. I recognize that there were times decades ago when I may have made some women uncomfortable by making advances. Those were mistakes, and I regret them immensely. But I always understood and respected—and abided by the principle—that 'no' means 'no,' and I have never misused my position to harm or hinder anyone's career. This is a time when we all are appropriately focused on how we help improve our society, and we at CBS are committed to being part of the solution."
The New Yorker article also suggested a culture at CBS where men accused of inappropriate behaviour were promoted, while settlements were paid to female complainants.
CBS, currently emboiled in a legal battle over the future of the company with controlling shareholder Shari Redstone, said in the article there had been no misconduct claims or settlements against Moonves during his 24-year tenure at the company. It issued the following statement in the article: "CBS is very mindful of all workplace issues and takes each report of misconduct very seriously. We do not believe, however, that the picture of our company created in The New Yorker represents a larger organization that does its best to treat its tens of thousands of employees with dignity and respect. We are seeing vigorous discourse in our country about equality, inclusion, and safety in the workplace, and CBS is committed to being part of the solution to those important issues."
Earlier in the day, reports of the imminent New Yorker article caused a drop in the company's stock price and a statement from CBS promising that "all allegations of personal misconduct are to be taken seriously."
An earlier statement from the company read: "All allegations of personal misconduct are to be taken seriously," the statement said. "The Independent Directors of CBS have committed to investigating claims that violate the Company's clear policies in that regard. Upon the conclusion of that investigation, which involves recently reported allegations that go back several decades, the Board will promptly review the findings and take appropriate action."
The statement added: "The timing of this report comes in the midst of the Company's very public legal dispute [with controlling shareholder Shari Redstone, who wants to re-merge CBS with Viacom]. While that litigation process continues, the CBS management team has the full support of the independent board members. Along with that team, we will continue to focus on creating value for our shareowners."
In response, a representative for Redstone issued a statement saying, "The malicious insinuation that Ms Redstone is somehow behind the allegations of inappropriate personal behavior by Mr. Moonves or today's reports is false and self-serving. Ms Redstone hopes that the investigation of these allegations is thorough, open and transparent."
CBS Corporation's stock price dived by 7% when news of the New Yorker piece first appeared but rallied slightly to close at $54.01, down 6%.
Moonves is widely regarded as one of the most powerful figures in the US media business. He joined CBS in 1995 as president of CBS Entertainment, after a highly successful stint as president of Warner Bros Television. He took the company's broadcast network to first place in the ratings with hit shows such as Everybody Loves Raymond, Survivor and CSI: Crime Scene Investigation.
When Viacom split its businesses into two publicly traded companies in 2006, Moonves was named president and CEO of the newly formed CBS Corporation.