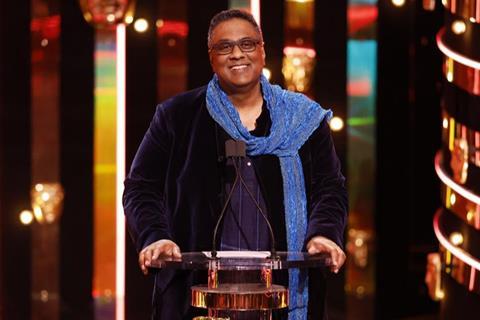 Krishnendu Majumdar and Steve McQueen used their speeches at the Bafta TV Awards as a call to arms for the UK's public service broadcaster (PSB) system, as Gogglebox producer Stephen Lambert criticised the government's plans to sell Channel 4.
Opening yesterday evening's event, which aired on BBC1 to a peak of 3.2m, the Bafta TV chair issued a veiled criticism of the government's plans to replace the licence fee and privatise C4.
"The way we make TV in this country is unique - with the delicate ecosystem of different broadcasters co-existing with newer streaming platforms. While we welcome and embrace innovation and evolution, we should also cherish public service broadcasting. You can see from the excellence of the nominations this year the amazing results of the current system. Public Service Television is one of the foundations of distinctiveness and independence of thought in this country," he said.
"Mark Rylance stood on this stage six years ago and said, "We're a nation of storytellers, we're admired around the world for it….and woe to any government or corporation who gets in the way of that." His words carry more weight now than ever. Now is time for the industry to come together and stand up to make the case to protect Public Service Broadcasting.
"I truly believe if we let it disappear – on our watch - it'll be gone forever, and that would profoundly damage the very fabric of our culture."
His views were echoed by filmmaker Steve McQueen, who told attendees: "things that we have to hold tight and fight for", after picking up the best factual series gong for BBC1's Uprising.
Studio Lambert chief exec Stephen Lambert was more directly critical of the C4 sell-off. Collecting the reality & constructed factual award for long-runner Gogglebox, he said that the show, which initially attracted a small audience, might never had got beyond a single series under a commercial ower and attributed its longevity to C4's risk-taking stance.
"If the government goes ahead with its destructive plan to end Channel 4 as a public organisation, those kinds of risks won't be taken," he warned.
Winners
BBC prison drama Time was the big winner on the night, taking home best mini-series and leading actor for Sean Bean.
Channel 4's Help, about a care home struggling during the start of the pandemic, also won two prizes; leading actress for Jodie Comer (her second Bafta), and best supporting actress for Cathy Tyson.
BBC3's In My Skin picked up best drama series, whilst lockdown drama Together with Sharon Horgan and James McAvoy won best single drama.
Matthew Macfayden won best supporting actor for Succession. The international award went to Barry Jenkins' Amazon Prime series The Underground Railroad.
Despite leading with six nominations, Russell T. Davies' aids drama It's A Sin, failed to secure a single award at the ceremony (though did win two prizes at the Bafta Craft awards).
A version of this story first appeared on Screen's sister site Broadcast