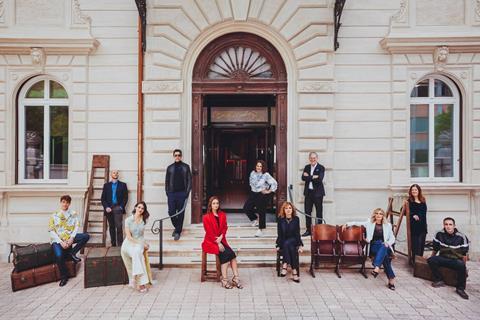 Netflix's founder and co-CEO Reed Hastings opened the streaming platform's Rome office today and unveiled a slate of Italian films and series, including a series adaptation of Elena Ferrante's most recent novel 'The Lying Life Of Adults' that will star Valeria Golino. Fandango is producing and Edoardo De Angelis will direct.
During the event it was revealed the number of Italian subscribers is "nearly five million," according to the company. This is up on the four million subscribers to Netflix Italy disclosed in October 2021. Hastings was upbeat in the face of falling global subscribers. "I can see a steady increase for streaming platforms for the next 20 years as more and more tv is substituted by smart tv," he said.
Hastings revealed how Netflix saw its role in the Italian market compared to the other US streaming platforms: "Our goal is to get 50% of the audience's viewing, leaving the others to share the remaining 50%," he said. "I also enjoy other platforms' productions. When we lost the best film Oscar to Coda I was sad but also happy because I loved the film. Thanks to this competition. storytelling will get better and better."
He suggested Netflix's strength was its ability to discover and invest new talent. "Disney's advantages are its franchises thanks to Marvel, Star Wars, Pixar and all of its properties," he continued. "But we have advantages too, we are great at finding new voices. And maybe not having those great intellectual properties pushes us to be edgier, hungrier and more creative."
"Our real competitors are YouTube and TikTok," he added. "Young people have a different sensibility. We all must invest in TV and film production to prevent this art form from being crushed and keep those stories alive."
Rome office
The Rome headquarters have opened nearly two years after Eleonora "Tinny" Andreatta, the former head of Rai Fiction, was appointed vice president of Italian series. She was joined today by Sara Furio, director of international original film and Giovanni Bossetti, non-fiction manager for Netflix Italy.
Films in the works at Netflix Italy include Lucky Red's teen comedy sequel Under The Amalfi Sun, heist movie Robbing Mussolini, produced by Bibi Film and starring Pietro Castellitto, action title My Name Is Vendetta from Colorado Film, starring Alessandro Gassman and English-language romantic comedy Love And Gelato.
Highlights on the TV side include Brigand, a period TV series produced by Italy's Fabula Pictures with Spain's Los Hermanos, and a series adaption of Tomasi di Lampedusa's novel 'The Leopard', adapted for the big screen by Luchino Visconti in 1963, to be directed by the UK's Tom Shankland whose credits include SAS: Rogue Heroes and The Serpent. It will be produced by Indiana Production and Moonage Pictures.
Additionally, The Lotto Gang has been created by Gomorrah and Zero Zero Zero duo Maddalena Ravagli and Leonardo Fasoli, produced by BIM and Feltrinelli Originals. It is inspired by the true story of the biggest scam ever committed against the Italian state, perpetrated through the national lottery.
There is also an untitled animated project by Zerocalcare, produced by Movimenti production and Bao Publishing, while Cattelya is working on an Italian reworking of the UK series Gold Digger, that is being written by novelist Teresa Ciabatti, with the working title of Inganno.