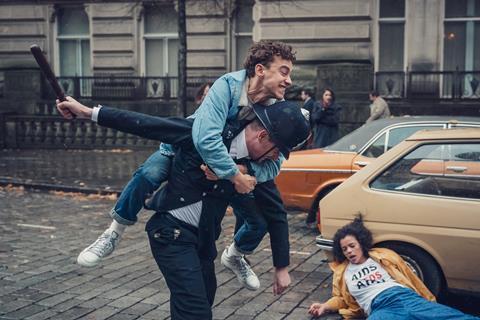 Russel T Davies' It's A Sin leads the nominations for this year's Bafta Television and Bafta Craft awards.
The drama, produced by Red Production Company for UK broadcaster Channel 4, earned 11 nominations, including mini-series, leading actor for Olly Alexander, actress for Lydia West, director: fiction for Peter Hoar, writer: drama for Davies and three supporting actor nods for Callum Scott Howells, David Carlyle and Omari Douglas.
Drama Landscapers, produced by Sister for Sky Atlantic, earned seven nominations including mini-series and leading actor for David Thewlis.
Jack Thorne's care home drama Help and Jimmy McGovern's prison drama Time received six nominations, whilst Netflix's Sex Education picked up five.
The Television Awards ceremony will be held at the Royal Festival Hall on May 12, with the Craft Awards taking place two weeks earlier on April 28 at The Brewery, London.
Selected nominations are below:
DRAMA SERIES
IN MY SKIN Kayleigh Llewellyn, Nerys Evans, Molly Manners, Sophie Francis – Expectation/BBC Three
MANHUNT: THE NIGHT STALKER Ed Whitmore, Marc Evans, Jo Willett, Evie Bergson-Korn, Philippa Braithwaite - Buffalo Pictures/ITV
UNFORGOTTEN Production Team - Mainstreet Pictures/ITV
VIGIL Tom Edge, Simon Heath, Jake Lushington, Angie Daniell, James Strong, Isabelle Sieb - World Productions/BBC One
INTERNATIONAL
CALL MY AGENT! Harold Valentin, Aurélien Larger, Dominique Besnehard, Michel Feller - Mon Voisin Productions, Mother Productions, France Télévisions/Netflix
LUPIN Production Team - Gaumont Télévision/Netflix
MARE OF EASTTOWN Production Team - wiip Studios, The Low Dweller Productions, Juggle Productions, Mayhem, Zobot Projects, HBO/Sky Atlantic
SQUID GAME Hwang Dong-hyuk, Kim Ji-Yeon - Siren Pictures/Netflix
SUCCESSION Production Team - Project Zeus, Hyperobject Industries, Gary Sanchez Productions, HBO/Sky Atlantic
THE UNDERGROUND RAILROAD Barry Jenkins, Colson Whitehead, Adele Romanski, Mark Ceryak, Dede Gardner, Jeremy Kleiner - Plan B, PASTEL, Big Indie, Amazon Studios/Amazon Prime
LEADING ACTOR
DAVID THEWLIS Landscapers – SISTER, South of the River Pictures/Sky Atlantic
HUGH QUARSHIE Stephen - HTM Television/ITV
OLLY ALEXANDER It's A Sin - Red Production Company/Channel 4
SAMUEL ADEWUNMI You Don't Know Me - Snowed-In Productions/BBC One
SEAN BEAN Time - BBC Studios/BBC One
STEPHEN GRAHAM Help – The Forge Entertainment, One Shoe Films/ Channel 4
LEADING ACTRESS
DENISE GOUGH Too Close - Snowed-In Productions/ITV
EMILY WATSON Too Close - Snowed-In Productions/ITV
JODIE COMER Help - The Forge Entertainment, One Shoe Films/Channel 4
KATE WINSLET Mare of Easttown - wiip Studios, The Low Dweller Productions, Juggle Productions, Mayhem, Zobot Projects, HBO/Sky Atlantic
LYDIA WEST It's A Sin - Red Production Company/Channel 4
NIAMH ALGAR Deceit - Story Films/Channel 4
MINI-SERIES
IT'S A SIN Russell T Davies, Nicola Shindler, Peter Hoar, Phil Collinson - Red Production Company/Channel 4
LANDSCAPERS Will Sharpe, Ed Sinclair, Katie Carpenter, Olivia Colman, Jane Featherstone, Chris Fry – SISTER, South of the River Pictures/Sky Atlantic
STEPHEN Mark Redhead, Madonna Baptiste, Alrick Riley, Frank Cottrell Boyce, Joe Cottrell Boyce,
Jessica Sharkey - HTM Television/ITV
TIME Jimmy McGovern, Tom Sherry, Lewis Arnold, Simon Maloney, Michael Parke, Andrew Morrissey - BBC Studios/BBC One
SINGLE DRAMA
DEATH OF ENGLAND: FACE TO FACE Clint Dyer, Dixie Linder, David Sabel, Rufus Norris, Christine Schwarzman, Roy Williams - National Theatre, Sabel Productions, Cuba Pictures/Sky Arts
HELP Production Team - The Forge Entertainment, One Shoe Films/Channel 4
I AM VICTORIA Dominic Savage, Krishnendu Majumdar, Richard Yee, Suranne Jones, Josh Hyams, David Charap - Me + You Productions/Channel 4
TOGETHER Production Team - Shoebox Films, Sonia Friedman Productions, BBC Film/BBC Two
SUPPORTING ACTOR
CALLUM SCOTT HOWELLS It's A Sin - Red Production Company/Channel 4
DAVID CARLYLE It's A Sin - Red Production Company/Channel 4
MATTHEW MACFADYEN Succession - Project Zeus, Hyperobject Industries, Gary Sanchez Productions, HBO/Sky Atlantic
NONSO ANOZIE Sweet Tooth - Warner Bros. Television/Netflix
OMARI DOUGLAS It's A Sin - Red Production Company/Channel 4
STEPHEN GRAHAM Time - BBC Studios/BBC One
SUPPORTING ACTRESS
CATHY TYSON Help - The Forge Entertainment, One Shoe Films/Channel 4
CÉLINE BUCKENS Showtrial - World Productions/BBC One
EMILY MORTIMER The Pursuit of Love - Open Book Productions, Moonage Pictures, Amazon Studios/BBC One
JESSICA PLUMMER The Girl Before – 42/BBC One
LEAH HARVEY Foundation - Skydance Television, Phantom Four/Apple TV+
TAHIRAH SHARIF The Tower – Mammoth Screen, Windhover Films/ITV
DIRECTOR: FICTION
LEWIS ARNOLD Time – BBC Studios/BBC One
MARC MUNDEN Help - The Forge Entertainment, One Shoe Films/Channel 4
PETER HOAR It's A Sin - Red Production Company/Channel 4
WILL SHARPE Landscapers - SISTER, South Of The River Pictures/Sky Atlantic
WRITER: DRAMA
JACK THORNE Help – The Forge Entertainment, One Shoe Films/Channel 4
JESSE ARMSTRONG Succession – Project Zeus, Hyperobject Industries, Gary Sanchez Productions, HBO/Sky Atlantic
KAYLEIGH LLEWELLYN In My Skin – Expectation/BBC Three
RUSSELL T DAVIES It's A Sin - Red Production Company/Channel 4