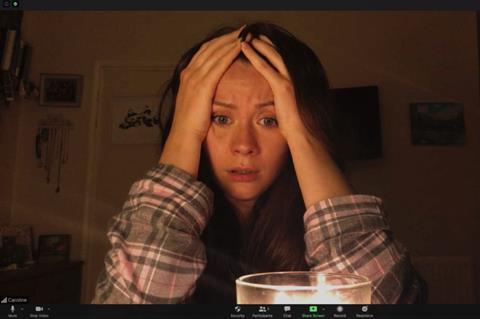 Paris-based sales company Charades has unveiled a slew of deals on UK director Rob Savage's zeitgeisty, Zoom-set horror film Host, ahead of its first festival outing at the Sitges fantasy film festival this week.
Charades recently partnered with AMC Network's genre streamer Shudder to sell the hit title worldwide, excluding North America, UK, Ireland, Australia and New Zealand, where the film played on the platform over the summer.
The sales follow the picture's launch on Shudder in July, where its timely setting and storyline proved a hit with subscribers.
In a sign of the buzz around the title, the company has quickly secured deals to Japan (Twin), Spain (La Aventura), South Korea (Sine Qua Non), Latin America (Energia Entusiasta), CIS & Baltics (World Pictures), Scandinavia (NonStop Entertainment), Middle East (Gulf), Taiwan (Catchplay), Hong Kong (Mandarin), Indonesia and Vietnam (Sine Qua Non).
France is currently under final discussion.
The partnership with Shudder comes hot on the heels of Charade's similarly innovative operation with US distributor Neon earlier this year, under which buyers were provided with a marketing package aimed at supporting the release of the film during a period of lockdowns and cinema restrictions.
"Despite the challenging context, we have had a great response from distributors on Host," the company said in a statement. "Our partners want to give significant exposure to this smart horror feature, both digitally and theatrically."
"We had a lot of fun creating social media content. After our successful run partnering up with US distributor Neon on three titles that they released this summer, our collaboration with Shudder gives us the opportunity to keep exploring innovative distribution strategies."
Haley Bishop, Jemma Moore, Emma Louise Webb, Radina Drandova, Caroline Ward, Teddy Linard and Seylan Baxter star as a group of friends who unwittingly allow a demonic spirit into their lives when they participate in a spiritualism session online.
Directed by Savage and co-written with Gemma Hurley and Jed Sheperd, Host was entirely produced and distributed in 12 weeks, during the lockdown. Savage and Sheperd also produced with Douglas Cox.
Savage has since signed a three-picture deal with powerhouse production company Blumhouse and is currently developing a number of TV and film projects including a supernatural thriller for StudioCanal, produced by Sam Raimi.