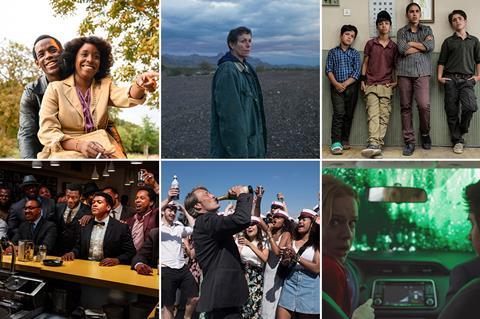 Despite the ongoing disruption to the film business caused by Covid-19, most of the major Autumn festivals were thankfully still able to go ahead, either in physical form (Venice, San Sebastian), or mostly online (Toronto, Sarajevo).
Whilst US heavy-hitters were mostly absent, there were plenty of arthouse titles that made an impression and could be a factor in this year's awards race. Below are some of the films that caught the eye.
Compiled by Screen's reviews editor and chief film critic Fionnuala Halligan.
Another Round
Dir. Thomas Vinterberg
Our critic said: "AFight Club, in its own way, for the drooping, discouraged middle-aged man that fight clubbers may have become, Another Round (Druk) is a funny film which is also desperately sad, a superficially amusing indictment of drinking culture which is much more bitter than sweet."
Read our review
Nomadland
Dir. Chloe Zhao
Our critic said: "You know it's a rare year when a small, gentle indie film set in the American West about a 61-year-old woman (Frances McDormand) living in a camper van becomes an urgent must-see."
Read our review
Lovers Rock
Dir. Steve McQueen
Our critic said: "McQueen is an artist-turned-Oscar-nominated filmmaker, so it's natural he wants to bend the camera to his will, but this is his least conventional, most cinematically impressive work since Hunger."
Read our review
'Dear Comrades!'
Dir. Andrei Konchalovsky
Our critic said: "Now in his 80s, Andrei Konchalovsky, the veteran Russian director – and briefly, Hollywood notable - has made one of his most Russian, and most accomplished, latter-day films with fact-based drama Dear Comrades!."
Read our review
Pieces Of A Woman
Dir. Kornel Mundruczo
Our critic said: "Tackling the difficult subject of how to mourn a person who hardly lived, the English-language debut of edgy Hungarian film and theatre director Kornel Mundruczo is at its core a story about a young woman called Martha, played with lambent intensity by Vanessa Kirby, who finds herself in an emotional fugue state when her baby dies shortly after birth."
Read our review
One Night In Miami
Dir. Regina King
Our critic said: "King's debut makes attempts to widen out the stage play, but there's no denying the fact that this is an exchange of ideas as opposed to a narrative, or that dialogue is often pitched as monologue. What ideas, though, and what a night."
Read our review
Mandibles
Dir. Quentin Dupieux
Our critic said: "This appetising 77-minute comic buddy-film from Quentin Dupieux shows the talented French musician and director abandoning the wilful Mondo Bizzarro surrealism and fourth-wall metacinema trickery of his early films and maturing into a seasoned, audience pleasing maverick."
Read our review
Quo Vadis, Aida?
Dir. Jasmila Zbanic
Our critic said: "The energy and passion of Zbanic's fresh, new, direct gaze at the conflict comes through in every frame, partly due to the inspired casting of Serbian actress Jasna Duricic as Aida, an interpreter at the base outside Srebrenica manned by Dutch UN forces."
Read our review
Wolfwalkers
Dir. Tomm Moore, Ross Stewart
Our critic said: " The final film in Moore and Stewart's "Irish folklore trilogy" (following 2009's The Secret Of Kells andSong Of The Sea in 2014) is a rumbustious, fast-paced and highly commercial affair full of derring do, revelations, narrow escapes and dark life or death confrontations."
Read our review
New Order
Dir. Michel Franco
Our critic said: "Nothing Michel Franco (After Lucia, Chronic, April's Daughters) has made up to now would prepare the viewer for the 86-minute dystopian howl that is New Order."
Read our review
The World To Come
Dir. Mona Fastvold
Our critic said: "It would be easy to sell The World to Come as 'the female Brokeback Mountain', but that would be to traduce the richness, singularity and command of Mona Fastvold's beautifully executed and acted drama."
Read our review
Nowhere Special
Dir. Uberto Pasolini
Our critic said: "Uberto Pasolini's film takes a real-life story as his starting block and turns this tiny Northern Ireland-set tale into an almost sensory experience. Key to that is a keenly sympathetic performance by James Norton."
Read our review
Sun Children
Dir. Majid Majidi
Our critic said: "This rousing, old-fashioned, somewhat didactic tale set in a school established to give street kids an education is an unusual choice for a competition berth at Venice, but in today's abnormal times its naïve brand of 21st century neo-realism feels strangely refreshing."
Read our review
Never Gonna Snow Again
Dir. Małgorzata Szumowska, Michał Englert
Our critic said: "Desire and delirium in Eastern Europe, with an undertow of eco-anxiety, make for a bizarre hybrid, somewhere between Twin Peaks and Pasolini's Theorem, in Never Gonna Snow Again."
Read our review
Beginning
Dir. Dea Kulumbegashvili
Our critic said: "Executive produced by Carlos Reygadas, Beginning is sure to make waves on the festival circuit and should also attract arthouse audiences prepared for the challenge of unravelling its mysteries and meanings."
Read our review
Shorta
Dir. Anders Olholm, Frederik Louis Hviid
Our critic said: "This impressive first feature from Anders Olholm and Frederik Louis Hviid confronts police brutality, racial tension and social division in a muscular, compelling thriller that proudly carries the influence of Walter Hill and John Carpenter."
Read our review