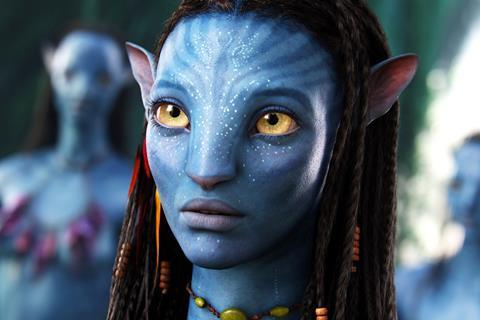 The re-release of James Cameron's Avatar held the top position at the China box office in its second weekend (March 19-21), according to figures from theatrical consultancy Artisan Gateway, grossing $14.1m.
The film, which grossed $206.4m when it was released in China in 2010, has taken a further $43.8m since its re-release, for an all-time cumulative total of $250.2m. The China re-release has pushed the film past Avengers: Endgame to become the highest-grossing movie of all time globally.
It is also shoring up the China box office in the post-Lunar New Year period when there are few big local or Hollywood titles to release. According to Douban, the three installments in Peter Jackson's The Lord Of The Rings trilogy will be released throughout April. Several big local films are being lined up for release at the end of April, to coincide with the Labour Day holidays (May 1-5).
Beijing Culture's time travel comedy Hi, Mom, which was released over the Lunar New Year holiday, came in second over the weekend with a further $6.7m for a cume of $819.8m. It was followed by another New Year release, Rao Xiaozhi's Endgame, starring Andy Lau, which took $3.8m for a cume of $111.1m.
Local comedy Overall Planning, co-directed by Feng Yiping, Liu Junmeng and Hao Xinyue, came in fourth on its opening weekend with just $2.7m. Despite negative reviews and low ratings on Douban and Maoyan, it beat the opening of STX Entertainment's 21 Bridges, co-financed by China's Huayi Brothers, which took $2.3m.
As of Monday evening, March 22, Overall Planning had slipped down Maoyan's real-time box office rankings to ninth position. Vadim Perelman's multi-lingual Persian Lessons, which also opened last weekend, was ranking in sixth position with $2m (RMB13.2m). Disney's Raya And The Last Dragon, which opened on March 5, has so far grossed $17.4m ($113.6m).
Total box office for the weekend was $40.3m, according to Artisan Gateway, while the year to date stands at $2.66bn. Films scheduled for release this weekend include Warner Bros/Legendary's Godzilla vs. Kong, which is expected to give the market a further lift.