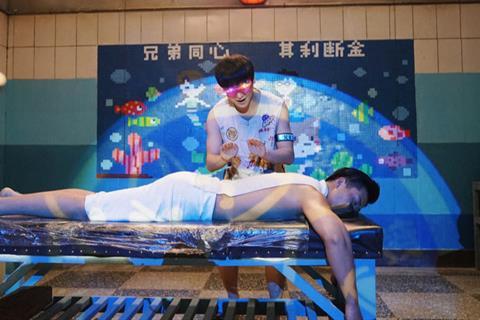 Local comedy Bath Buddy, produced by Beijing Culture and directed by Yi Xiaoxing, topped the China box office over the weekend (December 11-13), according to figures from Artisan Gateway, with a gross of $28.1m, despite being at the centre of a copyright dispute.
Korean production company MoonWatcher is claiming the film is based on a popular Korean webcomic and that it had struck a deal to set up the adaptation with the director and China's Wanda Media in 2018.
However, the Chinese side allegedly withdrew from the joint production agreement and started its own production last October. MoonWatcher says it tried to settle the copyright issue in April this year, without success.
"We will continue to fight against Wanda and director Yi Xiaoxing for business negligence and violating copyright laws. For the development of Korea-China cultural cooperation, the case should become a good reference," MoonWatcher said in a statement.
Korean content has been effectively banned in China since 2016, due a political dispute between the two countries, but there are currently no restrictions on using Korean IP for Chinese productions.
Starring Peng Yuchang and Shan Qiao, Bath Buddy tells the story of an obnoxious "fu er dai" (second generation rich kid) who gets tricked into working in a bathhouse when he loses his memory in an accident. Yi is an actor known for films such as Detective Chinatown, Pegasus and Duckweed and also has directing credits including 2015 comedy Surprise.
Local romantic drama The End Of Endless Love slid to second position in its second weekend, grossing $11m for a cumulative total of $44.5m, according to Artisan Gateway.
The Croods: A New Age came in third with $6.4m for a cume of $46.5m, while Japanese animation Doraemon The Movie 2020: Nobita's New Dinosaur came in fourth on its opening weekend with $6m.
Emperor Motion Pictures' crime thriller Caught In Time, starring Daniel Wu, came in fifth with $2.3m and has grossed an encouraging $81.1m since its release on November 20.
Films scheduled for release this weekend include Wonder Woman 1984 and Dante Lam's The Rescue, which was postponed from a Chinese New Year opening when Covid-19 shuttered China's cinemas in January. Another local blockbuster title, Shock Wave 2, starring Andy Lau, is scheduled to open on December 24.