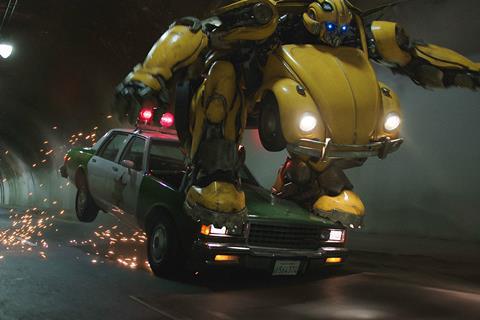 The Chinese box office contracted drastically to fall by 50% week-on-week following the end of the New Year holiday. Bumblebee dominated again in the absence of strong contenders between January 7-13.
Paramount's Transformers spinoff Bumblebee added $46.9m for a gross of $104.9m to date after just 10 days. It has surpassed the lifetime total of each of the first two Transformers in the original franchise - Transformers in 2007, and Transformers: Revenge of the Fallen in 2009, and is enroute to beat the third installment,Transformers: Dark of the Moon, in 2011. Its 10-day Chinese box office has topped its four-week North American box office.
The Big Shot opened in second, taking in $18.7m from its first four days. The Chinese remake of 2015 Korean crime thriller Veteran is directed by Wu Bai (not to be confused with popular Taiwanese singer of the same English name) and stars Wang Qianyuan (Shadow) and Bao Beier (Fat Buddies).
Kill Mobile dropped to third with $12.2m for $85.7m after 17 days. First-time director Yu Miao's local comedy drama is also a remake – from 2016 Italian film Perfect Strangers which grossed under $8m from its Chinese release last May.
Local animation White Snake, adapted from a classic Chinese folktale, opened in fourth with $6.3m from its first three days. It is produced by Gary Wang's Light Chaser Animation with Warner Bros as a co-producer in its first animated project with a Chinese company. Wang, a founder of Chinese video streaming platform Tudou, previously produced Little Door Gods and Tea Pets through Light Chaser Animation.
Warner Bros' global smash hit Aquaman added $4.3m for $283.3m after 38 days from an extended run. It has surged past Transformers 4 to become the 13th biggest film overall and the fourth biggest foreign film in Chinese history.
Japanese fantasy animation Fate/Stay Night: Heaven's Feel launched with $3.5m from its first three days; followed by local drama The Connection on $1.7m for $2.7m after 23 days; Sony animation Spider-Man: Into The Spider Verse on $1.4m for $60.1m after 24 days; basketball comedy Uncle Drew on $1m from its first three days; and boxing drama Creed II on $0.7m for $2.4m after 10 days.
This week's new releases include Mortal Engines, A Home With A View, Let Me Eat Your Pancreas and Escape Room, all dated for Jan 18. With the lack of major blockbusters, the Chinese box office is expected to remain quiet.