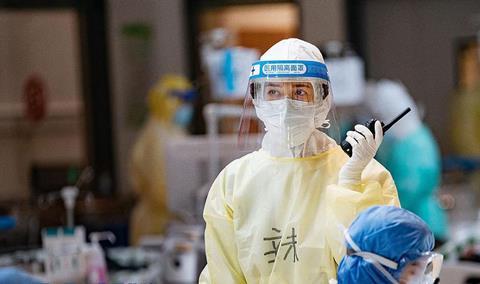 Bona Film Group's Chinese Doctors stayed atop the Chinese box office in its second weekend (July 16-18), according to figures from theatrical consultancy Artisan Gateway, grossing $44.2m for a cumulative total of $136.6m.
Directed by Hong Kong's Andrew Lau, the patriotic drama about a group of medical professionals in the early days of the Covid-19 pandemic in Wuhan, stars Zhang Hanyu and Yuan Quan.
It beat off three local openers including musical comedy The Day We Lit Up The Sky, which came in second with $11.9m from just two days on release (July 17-18). Co-directed by Han Yan and Zhang Yibai, the film revolves around a struggling student who meets a group of like-minded friends and enters a dancing competition.
Also opening over the weekend were animated feature Master Ji Gong, which came in third with $4.2m from its first three days, and Wanda Media's Hi Brother, which came in fourth with $3.3m.
Patriotic drama 1921, about the founding of the Chinese Communist Party (CCP), came in fifth with $2.6m for a cume of $70.8m after 18 days on release.
Foreign titles are few and far between at the China box office during this period, when cinemas have been ordered to play new and classic "main melody" or patriotic films during the centenary celebrations of the CCP.
However, a few US and other holdovers are still playing in some cinemas, including Wrath Of Man, which has grossed $25.5m (RMB165.5m) to date, the re-release of Cinema Paradiso on $2.98m (RMB19.3m) and Oscar winner The Father, which has taken $4.4m (RMB28.8m).
China's total box office for the year has reached $4.54bn, a decrease of 13.9% compared to the $5.27bn grossed by this point in 2019, before the impact of the Covid-19 pandemic.