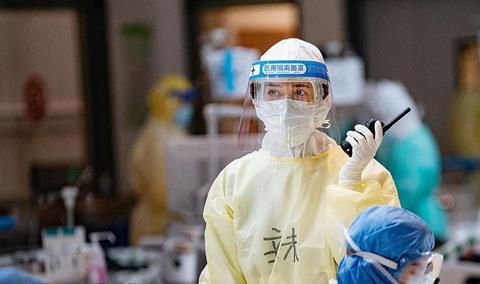 Patriotic titles continued to dominate the China box office this weekend, with Bona Film Group's Chinese Doctors opening in pole position with $53.3m in its first three days (July 9-11), according to figures from theatrical consultancy Artisan Gateway.
Produced by Bona Film Group, the film reunites Hong Kong director Andrew Lau with the stars of his 2019 blockbuster The Captain — Zhang Hanyu and Yuan Quan — and also features Jackson Yee, who makes a special appearance in the film. The story follows a group of medical professionals in the early days of the Covid-19 pandemic in Wuhan.
Historical drama 1921, which portrays the founding days of the Chinese Communist Party (CCP), came in second with a lacklustre $6.6m, for a cumulative gross of $63.7m. The film, which is co-directed by Huang Jianxin and Zheng Dasheng, opened on July 1 to coincide with the celebrations for the CCP's 100th anniversary. A whole of slew of 'main melody' or patriotic films are being released this year to mark the centenary.
Despite a starry ensemble cast including Huang Xuan, Ni Ni and Zhang Songwen, this particular title does not appear to have captured the imagination of the Chinese audience, unlike last year's My People, My Homeland, which grossed $435m (RMB2.82bn).
Two children's animated features also opened this weekend – New Happy Dad And Son 4 and Realm Of Terracotta – coming in third and fourth respectively. New Happy Dad And Son 4, the fourth installment of a popular TV series adaptation produced by CCTV Animation Group, grossed $5.5m for a cume of $6.6m including previews. Realm Of Terracotta, produced by Fantawild Animation, the Shenzhen-based studio behind the popular Boonie Bears franchise, grossed $5m in its opening three days.
Another patriotic title, The Pioneer, which also opened on July 1, came in fifth with $1.7m for a cume of $16.9m. Produced by Enlight Pictures and directed by Xu Zhanxiong (Wild Grass), the film stars Zhang Songwen as Communist Party founder Li Dazhao.