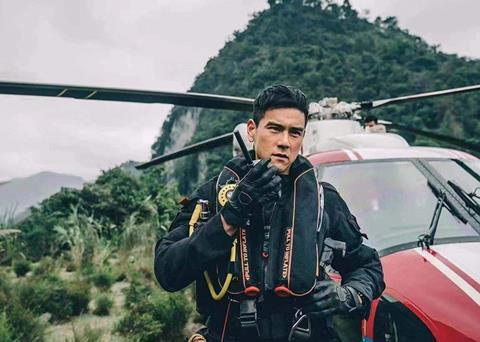 Dante Lam's The Rescue topped the China box office over its opening weekend (December 18-20), according to figures from Artisan Gateway, pulling in almost twice the gross of Hollywood tentpole Wonder Woman 1984, which opened on the same date.
The Rescue, a $90m action film revolving around an emergency rescue team working for the Chinese Coast Guard, grossed $36.3m in its first three days, compared to $18.8m for Warner Bros' superhero sequel, starring Gal Gadot. However, both openings were considered soft as December is usually a peak box office period in China and the pandemic continues to be mostly under control.
Starring Eddie Peng (Love After Love) and Xin Zhilei (Crosscurrent), The Rescue is Lam's follow-up to similarly patriotic blockbusters Operation Mekong (2016) and Operation Red Sea (2018), which grossed $180m and $558m respectively.
Produced by China Modern Film and Television and several other mainland Chinese production companies, the film was originally scheduled for release over Chinese New Year 2020, but was postponed when Covid-19 shuttered China's cinemas ahead of the holiday.
Online ticketing platform Maoyan is predicting a $33.8m (RMB221.2m) finish for Wonder Woman 1984, way below the $93m (RMB610m) grossed by the first Wonder Woman film in 2017. Social scores are not strong for the sequel with 7.9 on Maoyan and 6.6 on the more film buff-oriented Douban.
Meanwhile, local comedy Bath Buddy, which topped the box office the previous weekend, fell to third position with $9.5m for a cumulative gross of $52.6m. It was followed by The Croods: A New Age, with $2.6m for a cume of $50.3m, while local romantic drama The End Of Endless Love came in fifth with $2.3m for a cume of $50.5m.
The weekend as a whole pulled in a combined $72m in box office revenue, compared to $61.7m last weekend, pushing China's year-to-date tally to $2.82bn, down 70.6% on the same point in 2019.
Films scheduled to open this weekend include Herman Yau's action title Shock Wave 2, starring Andy Lau, on December 24, and Disney/Pixar's Soul on December 25.