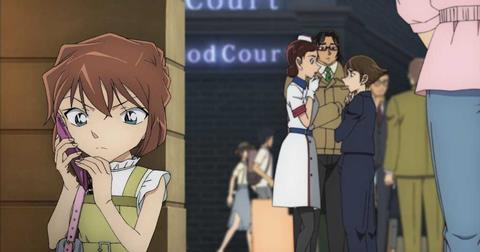 Detective Conan: The Scarlet Bullet, the latest installment in the long-running Japanese anime franchise, topped the China box office on its opening weekend, grossing $17.1m in its first two days.
The film, which opened in China on April 17, is directed by Nagaoka Tomoka and produced by Tokyo-based TMS Entertainment, with Toho distributing in Japan. It also had a strong start in Japan, which together with its China opening, propelled it to become the highest-grossing film worldwide over the weekend. With the Tokyo Olympics already delayed by a year due to the pandemic, the topicality of the film's plot may partly explain its success, as it involves a crisis that affects a major sporting event in Japan.
Detective Conan also easily outgrossed the other major release of the weekend (April 16-18), the re-release of The Lord Of The Rings: The Fellowship Of The Ring, which came in fifth with $4.1m in its opening three days, according to figures from theatrical consultancy Artisan Gateway.
The re-release had been scheduled for April 9, but was pushed back by one week, due to the late confirmation of the film's censorship approval. As the confirmation finally came just a few days before the April 16 opening, many cinemas across China did not receive digital prints in time. This could explain the lacklustre opening for the re-release of the first installment in the franchise, which was popular when it initially played in China.
Meanwhile, Lian Ray Pictures' Sister, starring Zhang Zifeng (Detective Chinatown), came in second over the three-day weekend, grossing $9.8m for a cumulative total of $119.5m. Yin Ruoxin's drama, which opened on April 2, revolves around a young woman who is forced to look after her younger brother when their parents die in a car crash. The film appears to have tapped into the Chinese audience's current interest in stories that explore gender discrimination and emotional family issues.
Warner Bros/Legendary's Godzilla vs. Kong, which opened one week before Sister on March 26, came in third over the weekend with the $7m, for a cumulative total of $178.5m. It was followed by romantic drama August Never Ends, directed by Li Kai and starring Elane Zhong (Youth) and Tan Songyun (Empresses In The Palace), which grossed $6.2m in its opening three days.
The re-release of the second installment in The Lord Of The Rings franchise, The Lord Of The Rings: The Two Towers, is scheduled for release this weekend (April 23), along with Guo Jinglin's sci-fi title Memory Dissection and Min Hui's drama City In The Air.