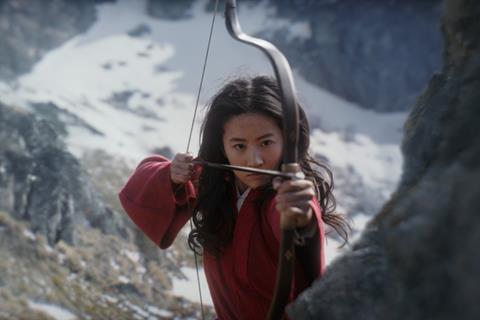 Disney's live-action Mulan grossed $22.7m on its opening weekend (September 11-13), according to figures from Artisan Gateway, a relatively soft opening for a film that was relying on Chinese box office, and only a shade above the $20.6m grossed by The Eight Hundred over the same period.
Although the film topped the weekend box office, it appears to have suffered from a range of factors depressing mainland China box office, from piracy to mixed reviews, and the short time period it was given between confirmation of release date and the September 11 opening in which to conduct marketing.
The film has also been hit by a growing wave of controversy, starting last year when lead actress Liu Yifei posted on social media in support of Hong Kong police during the pro-democracy protests, to the recent revelation that it filmed in Xinjiang, a region in which the detention of members of the Uighur community has been widely reported on.
Disney chief financial officer Christine McCarthy recently acknowledged that the decision to shoot some scenes in Xinjiang has "generated a lot of issues for us."
However, these factors are only likely to impact the film's box office in Asian and other international territories outside of mainland China.
Within China, the audience reaction and piracy issues seem to be more directly related to poor box office performance. High-definition copies of the film have been available online since it launched on Disney+.
Meanwhile, China's young cinema-goers appear to be less enamoured of China-themed Hollywood blockbusters than they have been previously, especially as the quality of local production has increased in recent years and the Mulan story has been told multiple times across different formats.
Also starring Chinese and Hong Kong stars Jet Li, Gong Li and Donnie Yen, Mulan recounts the legend of a young girl who dresses as a man and joins the army to prevent her elderly father from having to go to war.
Some viewers criticised Liu Yifei's performance on social media, but most of the criticism was directed at Disney's interpretation of Chinese culture with one viewer even calling the film "a masterpiece of Westerners' misunderstanding of Chinese culture". Specific complaints ranged from the historical inaccuracy of Mulan's family home, to a cliched handling of the themes of sacrifice and filial piety.
As of Monday, the film had a disappointing 4.9 rating on Douban and 7.6 on Maoyan, compared to 7.7 and 9.2 for The Eight Hundred, respectively. The Eight Hundred, which came in second at the three-day weekend box office, has a cumulative gross of $390.4m.
Elsewhere in the chart, Warner Bros' Tenet came in third with an additional $10m for a cume of $51m, followed by local romantic comedy Yes, I Do! with $4.1m on its opening weekend and Disney's Onward with $900,000 for a cume of $9m since its August 19 release.
Directed by Wang Weicheng and produced by Foshan Ninyang Pictures, Yes, I Do! is about a man who is followed by a futuristic robot who looks exactly like his ex-girlfriend.