Doctor Strange easily retains top spot; Ang Lee's Billy Lynn debuts in second with $11.97m.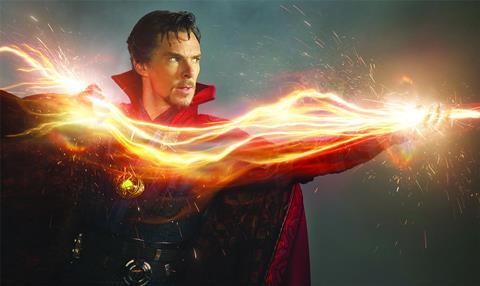 Disney's Doctor Strange retained top spot at the Chinese box office in the week of Nov 7-13, raking in $40.16m, the equivalent of almost half of the week's total box office.
The film, which is the third Marvel adaptation released in China this year, has amassed a 10-day total of $85.03m and has narrowly surpassed The Avengers to become the seventh-highest-grossing Marvel adaptation film ever in China.
New releases filled the next three spots. Ang Lee's Billy Lynn's Long Halftime Walk, which was given the most screening slots on its Friday opening day, failed to edge out Doctor Strange and had to settle for second place with $11.97m from its three-day opening weekend.
The English-language film has received a generally positive local user's rating, while its unprecedented high rate of 120 frames-per-second in 3D and 4K resolution has become a hot talking point. The tickets sold at a premium price of RMB300 ($44) were in high demand, but only a couple of selected cinemas are able to project the film in such a format.
Trailing close behind was Japanese animation One Piece Film: Gold which launched with $10.36m from its first three days, representing the best opening weekend for a Japanese film this year. As the 13th instalment of the One Piece manga series, it is the first of the long-running series to get a Chinese release.
Scandal Maker opened with $5.19m from its first three days. The Chinese remake of the Korean comedy is directed by Ahn Byung-ki and stars Chinese actor Tong Dawei and Taiwanese actress Michelle Chen.
Local comedy Mr Donkey dropped to the fifth with $4.28m for $24.33m after 17 days; followed by the Chinese remake of Korean mystery thriller Hide And Seek on $4.09m for $10.07m after 10 days.
Fox's Keeping Up With The Joneses opened softly in seventh place with $1.65m from its first six days.
Rounding out the weekly top 10 were Operation Mekong on $1.31m for a massive $176.05m after 45 days; Someone To Talk To on $0.96m for $2.60m after 10 days; and Mechanic: Resurrection on $0.80m for $50.46m after 24 days.
While last week's box office dropped slightly by approximately 4%, the annual box office crossed the RMB40bn ($6bn) threshold yesterday. It is on track to match last year's total of RMB44bn ($7bn).
This week's major releases include Deepwater Horizon (Nov 15), I Am Not Madame Bovary and The Warriors Gate (both on Nov 18).