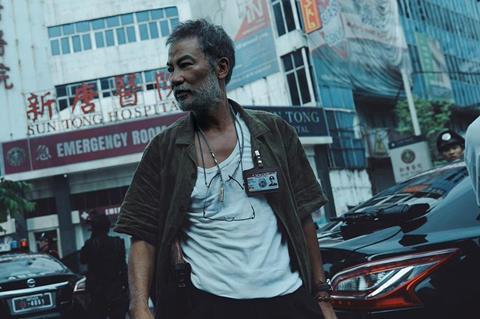 Wanda Pictures' Fireflies In The Sun, described as a sequel to 2019 hit crime drama Sheep Without A Shepherd, topped the box office on its opening weekend in China (December 17-19), according to figures from Artisan Gateway, grossing $54.2m in three days.
The film has taken $55.3m in total, including preview screenings. Apart from the fact that it's a crime drama, produced by Wanda Pictures and starring Yang Xiao, the film doesn't have many other similarities to Sheep Without A Shepherd, which was released at the end of 2019 and grossed $208.6m (RMB1.33bn) before the Covid-19 pandemic shuttered Chinese cinemas on January 23, 2020.
Fireflies In The Sun has a different director in Dai Mo (Detective Chinatown TV series) and the rest of the cast – which includes Hong Kong actors Simon Yam and Janice Man – are also different. The story revolves around a father driven to desperate measures to pay for his son's medical treatment.
Cheering Times Media's animated feature I Am What I Am also opened over the weekend, taking second position with $7.5m for a cumulative total of $10.2m, including previews. It was followed by Emperor Motion Pictures' adventure mystery Schemes In Antiques, which fell from top to third position in its third weekend, grossing $3.6m for a cume of $61.6m.
China Media Group's patriotic drama Crossing The Yalu River opened in fourth with $3m, and was followed by Maoyan Pictures' comedy thriller Be Somebody, which took a further $2.5m for a cume of $139.1m. Record-breaking patriotic blockbuster The Battle At Lake Changjin, which has a cume of $903m (RMB5.76bn), finally fell out of the top five after nearly three months.
Crossing The Yalu River, which like The Battle At Lake Changjin is set during the Korean War, is directed by Dong Yachun and stars Tang Guoqiang playing Mao Zedong, a role he is well known for.
As the year draws to a close, China's total box office for the year had reached $7.15bn as of December 20, which is a decrease of 26.3% on the same point in 2019. However, those figures mean that China is comfortably the biggest box office market in the world in 2021, ahead of North America, which will have an estimated $4.4bn by year end, according to Comscore.
Chinese authorities have not yet released figures on the split between domestic and foreign films, but the market share of US studio films is likely to be at an historic low with many major titles not securing release slots this year.
While Sony's Spider-Man: No Way Home stormed to a $588m global opening this weekend, it doesn't yet have a release date for China. The next US title scheduled for release is Warner Bros' The Matrix Resurrections on January 14, 2022.
However, following the surprise release of a Korean title, Jung Se-kyo's 2020 comedy Oh! My Gran, two weeks ago, Indian films are set to make a reappearance at the Chinese box office. Nitesh Tiwari's Chhichhore, which was produced by Fox Star Studios, now folded into Disney, is scheduled for Chinese release on January 7, 2022. The film, which was released in India in September 2019, stars Sushant Singh Rajput, who died from suicide in June 2020.