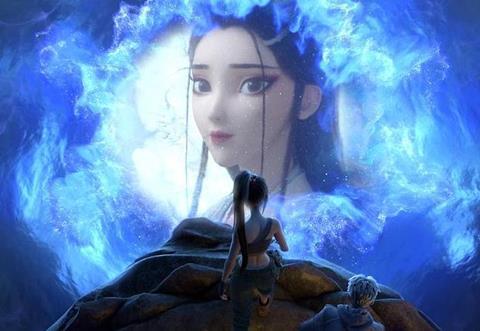 Light Chaser Animation's Green Snake, the sequel to its 2019 hit animated feature White Snake, topped the box office in its opening weekend in China, grossing $29.7m in its first three days (July 23-25), according to figures from theatrical consultancy Artisan Gateway.
The film continues the Chinese legend of two snake spirits with magical powers, who are able to take on human form after achieving immortality, and choose to live in the physical world as beautiful women. Tapping into a growing trend for youth-oriented animation, White Snake was a surprise hit when it was released in January 2019, grossing $72m (RMB468.4m).
The sequel is predicted to gross around $77m (RMB500m) according to Maoyan. IMAX reported that $2.6m of its opening weekend haul came from the IMAX China network of screens, more than from the opening weekend of China's biggest ever animation Ne Zha, which went on to gross $770m in summer 2019.
This weekend, Green Snake will come up against the latest animated feature from the producers of Ne Zha, Enlight Media-owned Coloroom Pictures, a sci-fi drama entitled Rainbow Sea Fly High.
Meanwhile, Bona Film Group's Chinese Doctors came in second with $17.4m over the three-day weekend for a cumulative total of $176.6m. This puts it comfortably over the RMB1bn benchmark, the eighth film so far this year to join that club. Two of the eight films to gross more than RMB1bn are US studio titles – Universal's F9: The Fast Saga and Warner Bros' Godzilla vs Kong.
Also opening this week were animated feature Agent Backkom: Kings Bear, a sequel to the 2017 kids film Backkom Bear: Agent 008, which came in third with $4.8m, and Shanghai Film Group's youth drama Top Of The City, which came in fifth with $1.5m.
Local musical comedy The Day We Lit Up The Sky, co-directed by Han Yan and Zhang Yibai, came in fourth with $3.2m for a cume of $22.5m since it opened on July 17.
Other films to open this weekend (July 30) include Hong Kong-China co-production Raging Fire, directed by the late Benny Chan and starring Donnie Yen, while Zhang Yimou's Sniper, a patriotic drama set during the Korean War, is also expected in coming weeks. Chinese authorities have still not confirmed a release date for Black Widow or any other upcoming Hollywood films.