Andy Lau's Shock Wave holds onto second; solid opening for Indian film Dangal.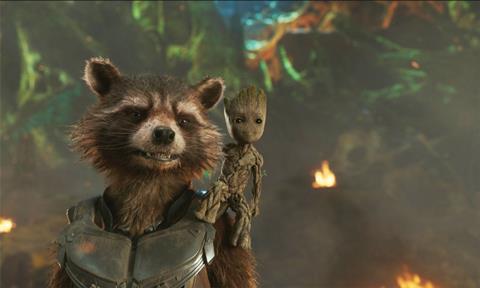 Last week's Chinese box office increased marginally week-on-week, thanks to the May 1 holiday on Monday and two new releases, Guardians Of The Galaxy Vol. 2 and Indian film Dangal.
Disney's Guardians Of The Galaxy Vol. 2 easily took the box office crown in the week of May 1-7 with a three-day opening weekend of $45.52m. It represented almost 80% more than its
2014 original and slightly ahead of another Marvel Cinematic Universe film Doctor Strange, which went on to gross $108.12m last year.
Unlike Furious 8 which performed significantly better in China, it was the reverse for Guardians 2. Its North American opening day was higher than its first three days combined in China.
Hong Kong action thriller Shock Wave held strongly onto the second spot with $23.25m for $47.88m after 10 days. It is now ranked as actor Andy Lau's highest grossing film, overtaking 2013's crime thriller Firestorm. It is also on course to match The Devotion Of Suspect X to become the highest grossing Chinese film post-Chinese New Year.
After a hat-trick win, Furious 8 dropped to the third in its third week with $18.08m for $380.02m after 24 days. While it has already outperformed Monster Hunt and Furious 7 to become the second highest-grossing film overall, it's highly unlikely that it could match the success of the top grossing film ever, The Mermaid, which stands at $491.60m based on current exchange rate.
Local sci-fi crime thriller Battle Of Memories, starring popular actress Yang Zishan, came in fourth with $15.59m for $37.57m after 10 days. It has equalled Taiwan director Leste Chen's The Great Hypnotist, but unlikely to match his 20 Once Again, which also stars Yang.
Dangal opened solidly in fifth with $11.13m from its three-day opening weekend. The sports drama follows a former wrestler, played by Bollywood superstar Aamir Khan, who trains his daughters to be professional wrestlers, is set to break new box office records for Indian films. Chinese audiences are not totally unfamiliar with Khan who was also seen in PK, Dhoom: 3 and 3 Idiots, all of which were released in China.
The rest of the chart was filled by holdovers: This Is Not What I Expected on $9.88m for $26.96m after 11 days; Love Off The Cuff on $8.92m for $22.43m after 10 days; Sony animation Smurfs: The Lost Village on $4.63m for $22.51m after 17 days; Mr Pride vs Miss Prejudice on $1.06m for $17.64m after 18 days; and Russian animation Savva: A Warrior's Tail on $0.64m for $1.40m after nine days.
Upcoming releases include What A Wonderful Family on May 11, King Arthur: Legend Of The Sword, Power Rangers and Dealer Healer, all on May 12.