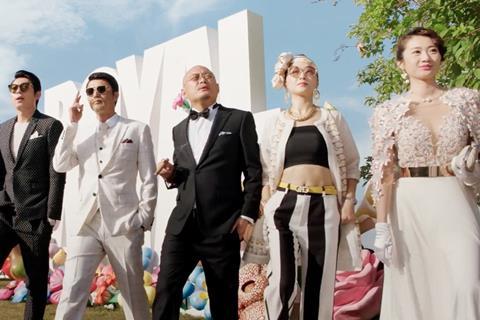 The weekend box office battle kicked off on Sunday (rather than Friday) when new local releases swarmed the cinemas ahead of the official week-long National Day holiday.
After a weak September, Sunday's daily box office finally shot back to the same level as the peak summer weekends, with Hello, Mrs. Money topping the one-day chart, followed by Shadow, Project Gutenberg and Fat Buddies.
Theatre troupe Mahua FunAge returns to the big screen again with Hello Mrs. Money, which took $15.2m on its opening day. The comedy about mistaken identity caused by greed and lies is directed by Wu Yuhan and stars Huang Cailun, both of whom are from the original stage play.
In addition to the theatre company's regular cast such as Allen Ai (Hello Mr. Billionaire) and Song Yang (co-director and actor of Never Say Die), Hong Kong-born Chinese-American actress Celina Jade who shot to fame from Wolf Warriors 2 joins the cast as the title character.
Last year, Mahua Fun Age's Never Say Die was the box office champion of the same National Day holidays while Hello Mr. Billionaire was this year's summer box office champion.
Following outings in Venice and Toronto film festivals, Zhang Yimou's latest historical epic Shadow debuted with $9.4m at its domestic market. Set in the turbulent Three Kingdoms period, it stars Deng Chao playing two separate roles. Sun Li, Zheng Kai and Wang Qianyuan co-star. Zhang Yimou's Shadow, a making-of documentary, is scheduled for Oct 5.
Project Gutenberg with Hong Kong superstars Chow Yun Fatt and Aaron Kwok launched with $7.8m. The Hong Kong crime thriller about counterfeit money is directed by Felix Chong and co-written by his frequent collaborator Alan Mak, the scriptwriter and co-director of Infernal Affairs respectively. They've also co-directed hit series Overheard.
Popular comedian Bao Beier's directorial debut Fat Buddies earned $4.6m. The comedy is about a portly cop who teams up with an equally overweight security guard to take down a drug cartel. The cast includes Wen Zhang, Bao and Korean actress Clara Lee.
Going back to the weekly box office (Sep 24-30), Chin Ka Lok's Hong Kong action adventure Golden Job moved to the top with $20.6m for $43.1m after 10 days.
Trailing close behind was Cry Me A Sad River on $20.2m for $31.3m after 10 days. Luo Luo's local romantic drama overtook Golden Job from Thursday till Saturday for the daily top spot.
Hello Mrs. Money came in third overall, ahead of Hong Kong anti-corruption crime thriller L Storm which added $9.6m for $62.4m after 17 days.
Next came Shadow and Project Gutenberg, ahead of Tom Cruise's Mission: Impossible – Fallout on $6.9m for $177.4m after 31 days.
Rounding out the weekly chart are Fat Buddies, Jia Zhangke's Ash Is The Purest White on $3.7m for $9.5m after 10 days and Chinese animation Monkey Magic on $1.9m for $5.1m after nine days.
The National Day releases will continue to slug it out this week.