Now nearing $300m, The Ex-File: The Return Of The Exes continued to top the Chinese box office in the second week of 2018 (Jan 8-14), while Jumanji: Welcome To The Jungle won the weekend.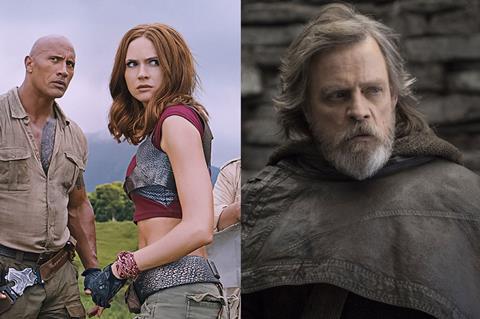 Local romance comedy Ex-File 3 (The Return Of The Exes) has further consolidated itself as the year's first megahit, adding $76.3m for a 17-day total of $293.3m. It has surpassed two 2017 Chinese New Year blockbusters, Kung Fu Yoga and Journey To The West: The Demons Strike Back, to become the fifth highest grossing local film of all time and the eighth highest grossing film overall.
Jumanji: Welcome To The Jungle debuted with $42.9m from its three-day opening weekend, ending Ex-File 3's reign as the No.1 film for 13 straight days. Sony's adventure sequel was the undisputed top performer for the weekend, but ended up in second place overall for the week.
Forever Young opened in third with $23.1m from its first three days. Directed by novelist-turned-director Li Fangfang, the Chinese drama follows four generations and boasts a stellar cast including Zhang Ziyi, Huang Xiaoming, Chang Chen and Wang Leehom. It was made to commemorate the 100th anniversary of Beijing's Tsinghua University in 2011, but its release has not been cleared until now.
Disney's Star Wars: The Last Jedi failed to stir up strong interest and fell to fourth place with $10.9m for $42m after 10 days. Its final gross is expected to be far below Star Wars: The Force Awakens and Rogue One: A Star War Story. Although the Chinese audiences are not entirely unfamiliar with Star Wars, the franchise's first three films were not released in China.
After one month on release, Feng Xiaogang's Youth finally dropped out of the top three positions. It still held well and came in fifth with $7.6m for $234m after 31 days; ahead of new release Keep Calm And Be A Superstar's three-day total of $5.7m. The Hong Kong comedy about a cop who goes undercover in an action film is directed by Vincent Kok and stars Eason Chan and Li Ronghao.
Local fantasy comedy Hanson And The Beast added $3.8m for $48.2m after 17 days, while Disney-Pixar's Coco, currently the second highest grossing animation ever, took $2.2m for $201.4m after 52 days.
Rounding out the chart were Russian space drama Salyut-7 on $2m from its first three days and Chen Kaige's lavish Tang dynasty fantasy romance Legend Of The Demon Cat on $1.7m for $87.9m after 24 days.
A wide variety of new titles will hit Chinese cinemas this week, including A Better Tomorrow (Jan 18), Guardians Of The Tomb, Wonder, Ferdinand and Secret Superstar (all on Jan 19).