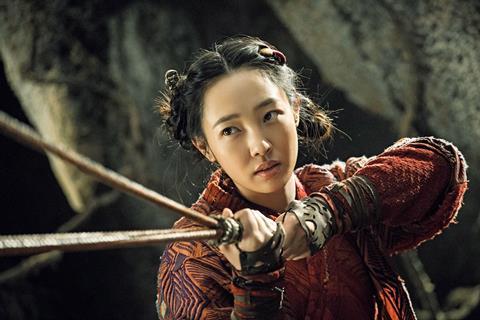 To welcome the Year of the Dog, the Chinese blockbusters lit up the box office like firecrackers this weekend.
Friday, the start of the week-long holidays, saw the roll out of no less than six major Chinese-language titles. By Sunday, China has delivered a series of box office records over three days (Feb 16-18), including the world record for the biggest three-day weekend in a single market with $535m.
About 40% of the opening weekend receipts, or $281m, came from Friday alone. This represented another world record of the biggest single day performance in a single market, beating North America's record led by Star Wars: The Force Awakens in 2015.
Monster Hunt 2 easily stood out as the best performer, with new records including the single biggest day and the biggest opening day in Chinese history with $85.26m from Friday, overtaking Furious 8 and Wolf Warriors 2.
Shrek The Third co-director Raman Hui's latest live action and CG hybrid has also become the fastest film to gross RMB1 billion ($166.7m) within 57 hours, surpassing Wolf Warriors 2's 87 hours. Its three-day total of $198.2m is almost half of its predecessor's final gross in 2015.
Detective Chinatown 2 finished in second with $163.1m. Again directed by Chen Sicheng and starring Wang Baoqiang and Liu Haoran, the action comedy rose to No.1 on Sunday, pushing Monster Hunt 2 down to second place.
The Monkey King 3: Kingdom Of Women took third spot overall with $84.3m, including big previews on Valentine's Day. But Soi Cheang's fantasy romance with Aaron Kwok, Feng Shaofeng and Zhao Liying fizzled out to fourth place on Saturday and Sunday.
Operation Red Sea came in a close fourth with $76.6m. Unlike the top three films which already have a big fan base thanks to their predecessors, the latest Dante Lam's film mostly banks on the director's smash hit Operation Mekong, another film with a military theme. Strong word of mouth has helped it climb to No.3 on Saturday and Sunday, trading places with The Monkey King 3.
Family animation Boonie Bears: The Big Shrink debuted with $42.2m including large-scale previews. Despite having less than 10% screening slots, the fifth installment of the popular franchise about the adventures of two bears has become the fastest local animation to reach RMB100 million ($16.7m).
The Faces Of My Gene opened on a smaller scale than Boonie Bears and took $8.1m. The comedy marks the directorial debut of comedian Guo Degang and stars Wolf Warriors 2's Wu Jing.
As the holidays are still ongoing, more box office records are expected and the ranking of the top films will continue to change before a true champion emerges.