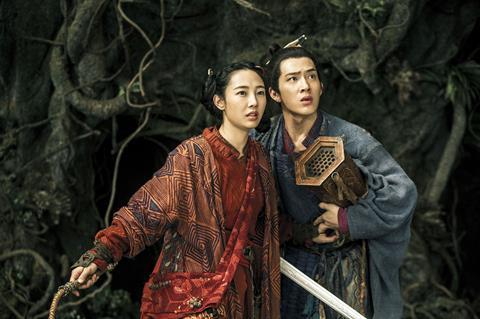 China's total box office on the first day of the Chinese New Year holidays (Feb 16) hit an estimated $205m (RMB1.3bn) powered by Monster Hunt 2, a world record for a single day box office in a single market, according to local trade press.
The Chinese result climbed 62% compared to the first day of the holiday in 2017. It beat the previous world record of $137m set in the US on December 18, 2015, driven by the opening of Star Wars: The Force Awakens, at current exchange rates. Individually, the sci-fi grossed $119m on its opening day.
Monster Hunt 2, which screens today [Sunday, Feb 18] as an out-of-competition Berlinale special screening, led the Chinese holiday on an $85m opening day, according to EntGroup. That compares to the $107m opening weekend of the first Monster Hunt film in July 2015. It added $60m on its second day, Saturday.
Detective Chinatown 2 was the second-highest grosser on the first day of the Chinese holidays on $53m, followed by The Monkey King 3 on $26m, Operation Red Sea on $20m, and animation Boonie Bears: The Big Shrink on $12m.
Chinese trade press also reported that the number of admissions on February 16 reached 31.9m, an increase of 50% over the first day of Chinese New Year in 2017, while the number of screenings climbed by 4% to 359,600. This year, Chinese authorities restricted ticket subsidies, setting the minimum ticket price at $3.14 (RMB19.90).