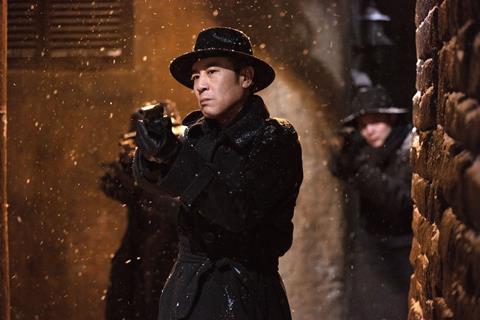 Youth Enlight Pictures' romantic comedy My Love and Zhang Yimou's spy thriller Cliff Walkers were the clear winners at the China box office over the May Day holiday weekend (April 30-May 2), although the romcom easily took pole position despite weak reviews.
A remake of hit South Korean romantic drama On Your Wedding Day (2018), My Love grossed $65.1m over the three-day weekend, according to figures from theatrical consultancy Artisan Gateway.
Directed by Han Tian, the film stars Taiwanese actor Greg Hsu, whose credits include Taiwan's Oscar shortlisted drama A Sun, and actress Zhang Ruonan (The End Of Endless Love). The film was panned by critics and only has a 5.3 rating on film buff oriented site Douban, although it fared better on Maoyan with a rating of 8.1.
Cliff Walkers (a.k.a. Impasse), which also opened on April 30, grossed $37.7m for a cumulative total of $38.8m including preview screenings. The film, which has a 7.7 rating on Douban and 9.1 on Maoyan, tells the story of four Communist agents who have been trained in the Soviet Union to carry out a secret operation in the city of Harbin. The cast includes Zhang Yi (Operation Red Sea), Yu Hewei (I Am Not Madame Bovary), Qin Hailu (The Pluto Moment) and Zhu Yawen (The Captain).
The next three films in the top five all opened on Saturday, May 1. New Classic Media's suspense thriller Home Sweet Home, directed by Leste Chen and starring Aaron Kwok and Zhang Zifeng, came in third with $19.4m. It was followed by two crime action pictures – Erdong Pictures' The Unbeatable (aka Once Upon A Time In Hong Kong) with $13.8m and iQiyi Pictures' Break Through The Darkness with $7.3m.
Produced and co-directed by Wong Jing and starring Hong Kong actors Louis Koo, Tony Leung Ka-fai and Francis Ng, The Unbeatable revolves around local police and their dealings with triads in 1960s Hong Kong. Written and directed by Lu Yulai, Break Through The Darkness is about the fight against corruption by China's anti-organised police force and stars Jiang Wu, Zhang Songwen and Jin Shijia.
The five-day May Day public holiday (May 1-5) is usually one of China's most lucrative box office periods, along with Chinese New Year, National Day in October and the year-end season.
Total box office for the weekend as a whole stood at $160m, comparable to similar weekends prior to the Covid-19 pandemic, suggesting the market is recovering. However, box office for the year to date currently stands at $3.3bn, which is tracking 12.3% down on this point in 2019.