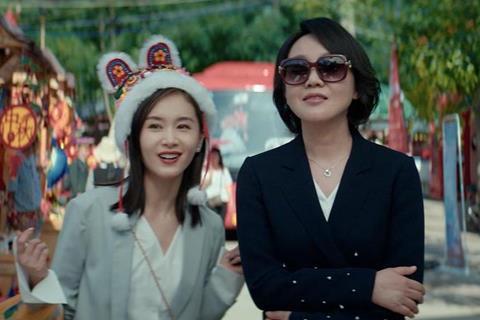 Patriotic omnibus My People, My Homeland topped the China box office over the National Day weekend (October 2-4), according to figures from Artisan Gateway, grossing $97.5m. The film opened one day earlier on Thursday, October 1, the first day of the eight-day holiday, and in its first four days has grossed a cumulative total of $137.8m.
Produced by Beijing Culture, the film is executive produced by Zhang Yimou and has segments directed by Ning Hao, Xu Zheng and Chen Sicheng, among other directors. Last year's similarly-themed My People, My Country grossed $467m over the National Day holidays.
Animated feature Jiang Ziya: Legend Of Deification, which also opened October 1, came in second over the three-day weekend, grossing $82.9m for a cume of $136.2m. Backed by Enlight Pictures, the film is a loose sequel to last year's Nezha, which grossed $740m to become the second highest-grossing film of all time in China behind Wolf Warrior 2.
Peter Ho-sun Chan's Leap, which opened one week before the holiday on September 25, came in third with $19.1m for a cume of $67.1m. The film stars Gong Li as Chinese volleyball champion Lang Ping
Opening on September 30, action adventure Vanguard, starring and produced by Jackie Chan, came in fourth with $7.7m for a cume of $24.7m, followed by comedy Coffee Or Tea, which grossed $4m on its opening day (October 4).
Other locally-produced films to open over the busy weekend included an animated version of the Mulan legend and documentary The Big Parade, about the military parade held during the National Day holiday in 2019 to celebrate the 70th anniversary of the People's Republic of China. iQiyi Pictures' Let Life Be Beautiful, about a youth diagnosed with leukaemia, opens today (October 5).
IMAX screens grossed a combined $13m, marking the large-screen operator's best-ever weekend for China's National Holiday, up 25% on last year despite a 75% capacity limit across the country. Jiang Ziya: Legend Of Deification grossed $11.5m on IMAX screens, accounting for 7.5% of the film's box office total.
IMAX also reported that films playing on its screens have grossed a combined $53.2m since China's theatres reopened on July 20.
According to Artisan Gateway, total box office over the three-day weekend reached $215.6m. China's year-to-date box office currently stands at $1.55bn, down 79.3% on the box office taken by the same date last year.
The National Day holidays are one of China's peak box office periods, along with Chinese New Year, the May Day holidays and the year-end (December/January) period, when local producers release their biggest titles and there is usually an unofficial blackout on foreign films. This year the holiday coincided with Mid-Autumn Festival, which changes dates each year according to the Lunar calendar, but takes place in mid to late-September.