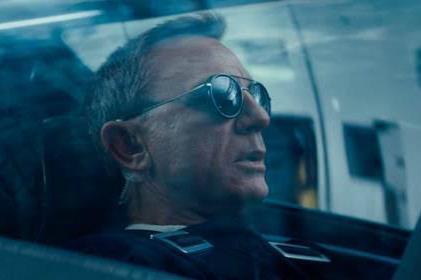 No Time To Die managed to displace local blockbuster The Battle At Lake Changjin in the top spot at the China box office over the weekend (October 29-31), according to Artisan Gateway, grossing $28.1m in its first three days, although its performance was affected by cinema closures due to new Covid-19 outbreaks.
According to local analysts, more than 1,400 cinemas in 14 provinces have been ordered closed due to the outbreaks, including some cinemas in Beijing. The closures account for around 10% of all Chinese cinemas and 13% of national box office.
Spectre, the last film in the Bond franchise, opened on $48m (RMB308m) and went on to gross $84.5m (RMB541m) in late 2015, according to Maoyan figures, while Skyfall opened on $34.4m (RMB221m) and grossed $58.7m (RMB376m) in early 2013. Maoyan is predicting that No Time To Die will close out on $68m (RMB436m).
The Battle At Lake Changjin grossed an additional $19.2m for second place in the weekend chart, according to figures from Artisan Gateway. The patriotic war film has reached a cumulative gross of $858.9m, making it the highest-grossing film worldwide this year, overtaking Chinese melodrama Hi, Mom on $844.4m (RMB5.41bn). It is also the second-highest grossing Chinese film ever behind Wolf Warrior 2, which took $888m (RMB5.69bn) in 2017.
Bona Film Group has announced that it will produce a sequel to The Battle At Lake Changjin, again co-directed by Chen Kaige, Tsui Hark and Dante Lam, starring Wu Jing and Jackson Yee and set during the Korean War.
Meanwhile, Warner Bros/Legendary Entertainment's Dune came in third with $4.9m for a cume of $33.1m in its second weekend. The film, which does not have the same level of audience awareness as the Bond franchise, had opened in second place with $21.9m on October 22.
Japanese studio Shochiku's 2008 drama Departures also opened over the weekend and came in fourth with $3.6m. Directed by Yojiro Takita, the drama about a man who takes a job as a funeral director won the best foreign-language film Oscar in 2008.
Patriotic anthology film My Country, My Parents, which like The Battle At Lake Changjin has also been on release for over a month since China's National Day holidays, came in fifth with $2.5m for a cume of $226.7m. It was followed by the Ann Hui's Love After Love and Zhou Ziyang's Wu Hai, which won the Fipresci prize at last year's San Sebastian film festival.
Two US studios films are scheduled for release this weekend (Friday, November 5) – Sony Pictures' animated musical Vivo and Paramount Pictures' Snake Eyes: G.I. Joe Origins.