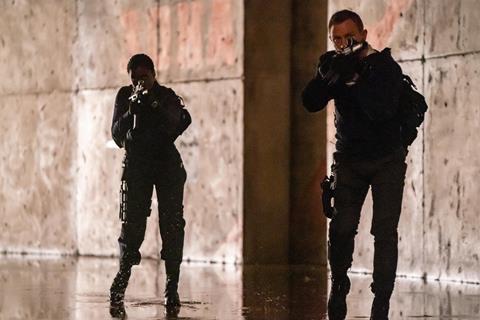 No Time To Die grossed $11.4m at the China box office in its second weekend (November 5-7), enough to hold on to the top spot, despite dropping nearly 60% from its $28m opening weekend take.
The latest film in the Bond franchise has now reached a cumulative total of $49.2m, according to figures from theatrical consultancy Artisan Gateway, which is considered healthy for a US studio title in China these days, but well below expectations of just a few years ago.
Maoyan is estimating that No Time To Die will close out on $65.7m (RMB420.2m), while the previous film in the franchise, Spectre, took $84.5m (RMB541m) in late 2015. Around 10-15% of China's cinemas are currently closed due to isolated Covid outbreaks, which are being clamped down on firmly as part of China's zero Covid strategy.
Patriotic blockbuster The Battle At Lake Changjin continued its run grossing a further $8.7m for second place in the weekend chart. With a cume of $874.1m, the film is comfortably the highest-grossing release globally of 2021. It is also China's second-highest grossing film ever behind Wolf Warrior 2.
Local drama The Curious Tale Of Mr Guo, a story spanning 60 years from the early days of the Cultural Revolution, came in third with $3.6m on its opening weekend, followed by local animation The Legend Of The Sealed Book with $2.3m.
Warner Bros/Legendary's Dune came in fifth with $2.1m, over its third weekend, for a cume of $36.9m.
Two other US studio films opened over the weekend – Paramount Pictures' Snake Eyes: G.I. Joe Origins and Sony Pictures' animated musical Vivo – but only managed opening weekends of $1.47m (RMB9.4m) and $547,000 (RMB3.5m) respectively. Snake Eyes: G.I. Joe Origins has been subject to online piracy, but also scored poorly with Chinese netizens on online platforms, with a 5.8 rating on Maoyan and 4.3m on Douban.
Releases scheduled for this weekend include Longman Leung's Anita, a biopic of Hong Kong Canto-pop diva Anita Mui, and Disney's long-delayed Jungle Cruise.