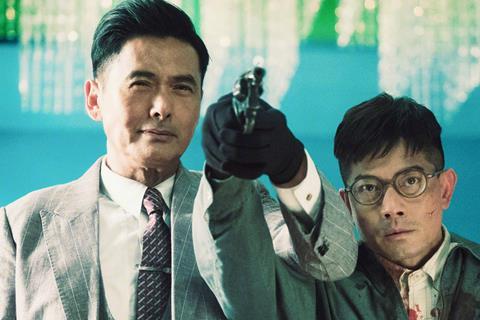 The third week of October (Oct 15-21) failed to provide any reprieve to the Chinese box office as it turned out to be the second quietest week in 2018, with a 25% drop week-on-week.
It is the second consecutive week-on-week decline following a disappointing weeklong National Day holiday when ticket sales dropped by 27.5% from the same period in 2017. October will probably end up as a month of negative growth.
Without strong contenders, Hong Kong crime thriller Project Gutenberg scored a hat trick, topping the weekly chart three times in a row. The National Day champion added $23.5m for $157.3m after 22 days. It is currently the eighth highest grossing local film and the 12th overall of 2018.
Local kidnapping drama Lost, Found, starring Yao Chen and Ma Yili, remained steady and even climbed to the second spot with $10.1m for $31.8m after 17 days, while Indian drama Hichki about an aspiring teacher with Tourette syndrome also moved up - to the third with $7.1m for $11.3m after 10 days.
Zhang Yimou's historical epic Shadow fell to fourth place with $7m. Its 22-day total of $86.1m overtook that of Hello, Mrs Money which opened top, much ahead of Shadow.
The new releases all underperformed, with none of them in the top three. Action comedy The Spy Who Dumped Me, starring Mila Kunis and Kate McKinnon, fared the best among the new openers, taking $5.7m from its first three days.
It was followed by animated musical adventure Smallfoot on $3.9m and Baby on $3.1m, both from their first three days.
Premiered recently in Toronto film festival, Baby is a local realist drama about abandoned children by Hide And Seek director Liu Jie. It is produced by Taiwanese filmmaker Hou Hsiao Hsien and features popular Chinese star Yang Mi (Tiny Times series) in an unglamorous role as a woman pursuing her own social mission.
The rest of the charts are holdovers: Happy FunAge's comedy Hello, Mrs Money on $2.9m for $84.7m after 22 days; actor Bao Beier's directorial debut cop comedy Fat Buddies on $2.3m for $36.1m after 22 days; and Luo Luo's romantic drama Cry Me A Sad River on $1.6m for $49.5m after 31 days.
The Predator will open on Oct 26 to mark the return of mainstream Hollywood fares since Mission: Impossible – Fallout's opening two months ago, with the Chinese box office looking for a much-needed boost.