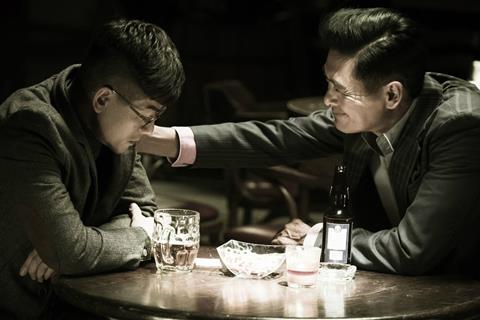 Following a rather disappointing weeklong National Day holiday, the second week of October (Oct 8-14) remained weak as it shrunk by 65.8% week-on-week.
The National Day titles continued to dominate the chart, with no new releases in the top five. Felix Chong's Project Gutenberg, with Chow Yun Fatt and Aaron Kwok, topped again on $36.6m.
Its 15-day total of $133.9m has made it the eighth highest grossing local film of 2018 as well as the top grossing Hong Kong cop and crime thriller, surpassing 2016's Cold War 2. But it is only about half of that of 2017's National Day champion Never Say Die.
Zhang Yimou's historical epic Shadow climbed one place up to the second with $14.7m for $79.2m after 15 days. Although it's just half of the lifetime total of Zhang's previous film The Great Wall, Shadow has received generally positive word-of-mouth compared to the US-China co-production. Period martial arts productions have lost much of their appeal to Chinese audiences and Shadow is the fourth highest grossing film of such genre this year, after Monster Hunt 2, Monkey King 3 and Detective Dee: The Four Heavenly Kings.
Local drama Lost, Found ranked third with $13.3m for $21.8m after 10 days. It gained traction from Saturday as it overtook Shadow for second place. With two women in the leads - Yao Chen and Ma Yili, the local kidnapping drama is directed by Lu Yue who was nominated in 1996 for Oscar's best cinematography for Zhang Yimou's Shanghai Triad.
Happy FunAge's latest comedy Hello, Mrs Money dropped to fourth with $8.3m for $81.8m after 15 days, while actor-turned-director Bao Beier's cop comedy Fat Buddies took $5.5m for $33.8m after 15 days.
Indian drama Hichki about an aspiring teacher with Tourette syndrome opened in sixth with $4.2m from its three-day opening weekend. It fared better than Salman Khan's sports drama Sultan which opened earlier in August.
Luo Luo's local romantic drama Cry Me A Sad River added $3.5m for $47.9m after 24 days. Thanks to good buzz, it came from behind and surpassed the 24-day total of Golden Job, which opened top earlier.
It was followed by sci-fi The Titan on $1.7m from its first three days; local animation Monkey Magic on $1 for $10.4m after 14 days; and animation Maya The Bee Movie on $0.8m from its first three days.
It will probably be another quiet week at the Chinese box office with no major openings. New releases include The Spy Who Dumped Me, Baby, Small Foot and Early Man, all scheduled for Oct 19.