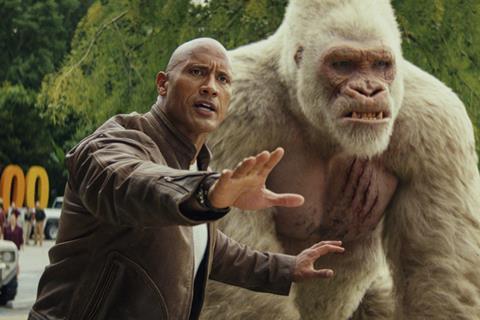 The lack of new blockbuster titles saw the Chinese box office shrink further by about 16% week-on-week, making Apr 16-22 the second quietest week in 2018.
Without much competition, Warner Bros' action adventure Rampage retained the No.1 crown for the second week with $53.7m, taking up more than half of the week's total box office.
With a 10-day total of $112m, it has surpassed Black Panther to become the third highest grossing non-Chinese film this year, after Ready Player One and Secret Superstar. It is also the highest grossing film for Dwayne "The Rock" Johnson in China outside The Fast And The Furious series.
Steven Spielberg's Ready Player One maintained well in second place with $15.3m for $217.3m after 24 days. Warner Bros' sci-fi adaptation has become the 11th highest grossing non-Chinese film ever. China is the biggest market for both Rampage and Ready Player One.
Local romantic comedy 21 Carat opened with $10.5m from its first three days. Starring Guo Jingfei and Dilraba Dilmurat, it is adapted from theatre director He Nian's stage play of the same name.
It was followed by another two new releases: Wes Anderson's Isle Of Dogs on $4.3m and local love comedy Dude's Manual on $3.8m, both from their first three days.
The rest of the charts are holdovers: Natalie Portman's sci-fi thriller Annihilation on $3.5m for $9.9m after 10 days; Irrfan Khan's Indian comedy drama Hindi Medium on $3m for $33.9m after 19 days; local documentary Amazing China on $1m for $78.5m after 52 days; mega-blockbuster Operation Red Sea on $0.9m for $607.1m after 66 days; and Russian animation The Snow Queen 3: Fire And Ice on $0.8m for $10.1m after 18 days.
Coming up next are The Trough, Us And Them and Genghis Khan, all scheduled for Apr 28.