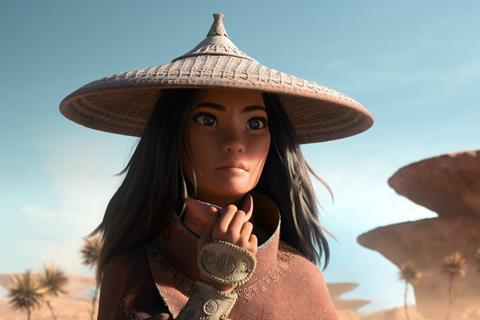 Although Disney's Raya And The Last Dragon has Asian themes and characters, it had a relatively disappointing opening in China over the weekend (March 5-7), grossing $8.5m for third position in the weekend chart.
The film's China opening was on par with North America, where it took $8.6m over the three-day weekend, but the China market has many more screens operating and has produced several domestic blockbusters since cinemas reopened last summer. Raya's weekend take was also below that of Warner Bros' Tom And Jerry, which grossed $12.4m when it opened the previous weekend (February 26-28).
However, Tom And Jerry did not even make the top five this past weekend, signalling the further indifference of Chinese audiences towards Hollywood fare. Lunar New Year holdover Hi, Mom topped the weekend box office with $22.9m for a cumulative total of $783.4m, according to figures from Artisan Gateway, while Rao Xiaozhi's Endgame came in second with $10.7m for a cume of $89.7m.
Disney's Soul grossed only $5.5m over its Christmas 2020 opening, and went on to take an impressive $57.7m (RMB375.5m) due to strong word-of-mouth, but based on current ratings on platforms such as Maoyan and Douban, Raya And The Last Dragon is not expected to have the same legs. Indeed, Maoyan is forecasting the film will end up on $15.7m (RMB102.2m).
Raya did however manage to gross more than Lunar New Year mega-hit Detective Chinatown 3, which now has a cume of $680.3m after grossing a further $8.1m for fourth position in the weekend chart. A Writer's Odyssey, another Lunar New Year holdover, came in fifth with $5.8m for a cume of $148.8m.
Meanwhile, Chloe Zhao's Golden Globe winner Nomadland has run into controversy with Chinese netizens over the nationality of its director – and comments she made in old interviews – although its April 23 release through the National Alliance of Arthouse Cinemas (NAAC) appears to be still on track.
Chinese audiences expressed enthusiasm for the film when its release was announced a few weeks ago, but it has since fallen victim to a nationalist backlash over whether Zhao, who was born and grew up in Beijing, remains a Chinese national. She was also quoted by Filmmaker Magazine in 2013 describing her childhood in China as "being in a place where there are lies everywhere".
Chinese censors have recently removed some mention of the film from social media platforms and messaging apps including Weibo, WeChat and Douban. However, it's April 23 release date is still listed on Mtime.
Other US films scheduled for release in coming weeks include romantic drama Five Feet Apart on March 12, AGBO-produced crime thriller 21 Bridges, which was co-financed by China's Huayi Brothers, on March 19 and Warner Bros/Legandary's Godzilla Vs. Kong on March 26.