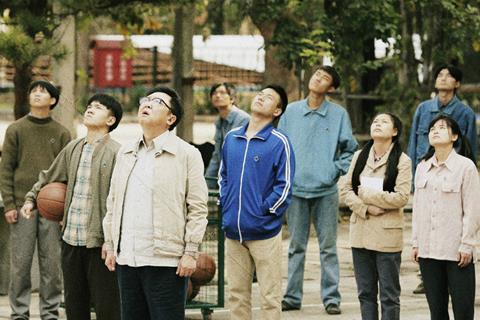 The last week of March (March 25-31) suffered a heavy drop in ticket sales of 35% week-on-week making it the second-quietest week in 2019 so far, behind the traditionally slow pre-Chinese New Year week only.
Although February was the biggest single month in a single market, overall the first quarter of 2019 turned out to be a sluggish one at the China box office. Gross box office receipts fell by 8% to $2.8bn compared to the same period in 2018. The months of January and March were down 32% and 20% respectively.
In such a slow week, Song Of Youth emerged as a dark horse in its second week as it topped the seven-day chart with a gross of $19.2m and $31.3m to date. The success of this modest budget production – the second film of rising director Zhang Luan - is largely built on positive word of mouth. It has successfully tugged at the heartstrings of the Chinese audiences with a nostalgic heartwarming story set in the 1980s about a dedicated teacher and his high school students. Veteran actor Yu Qian stars with a cast of fresh-faced newcomers.
By comparison, the pre-release buzz was much louder for renowned Chinese director Wang Xiaoshuai's So Long, My Son, which won the Silver Bear award for best actor for Wang Jingchun and best actress for Yong Mei in Berlin in February. Both films opened on the same day (March 22), but the Chinese audiences gave cold shoulders to So Long, My Son, a complex family chronicle that spans four decades, which grossed $1.9m for $5.9m after 10 days.
Song Of Youth outperformed Taiwanese romantic drama More Than Blue which grossed $15m this week after two weeks at the top. It has now grossed $130.4m make it the sixth- biggest film of 2019 so far, trailing closely behind Captain Marvel.
Dumbo, Disney's live-action version of the beloved children's story Dumbo, was the biggest new release of the week and opened on March 29 for a somewhat soft debut of $10.3m, making China the film's biggest international market so far.
Following the success of his 2017's murder mystery thriller The Invisible Guest, Spanish director Oriol Paulo returned with his latest time-travelling thriller Mirage, which opened with $9.4m from its first four days (March 28-31), doubling that of his previous film. When released in 2017, The Invisible Guest took the Chinese box office by surprise to become the biggest Spanish film in China.
Local comedy drama The Human Comedy grossed $8m from its first three days (March 29-31). With generally poor reviews, it dived to fifth place on both Saturday and Sunday despite debuting top on its opening day (March 29). Directed by veteran filmmaker Sun Zhou, The Human Comedy is about a married couple desperate for money who cooks up a fake kidnap for a rich man's son. The cast includes Ai Lun and Wang Zhi from local blockbusters Never Say Die and Goodbye Mr Loser.
Still inside the weekly top 10 are Captain Marvel on $5.3m for $145.5m after 24 days; Bohemian Rhapsody on $4.8m, lifting its 10-day total to $11.1m and setting a new record for distributor China's National Arthouse Film Alliance, beating Three Billboards, Outside Ebbing, Missouri; best picture Oscar winner Green Book on $2.2m for $67.5m after 31 days; So Long, My Son as reported above; and Dutch thriller Prey on $1.3m for $6.3m after 10 days.