It was a hat-trick of weekly wins for The Force Awakens but the weekend belonged to animated pandas and bears.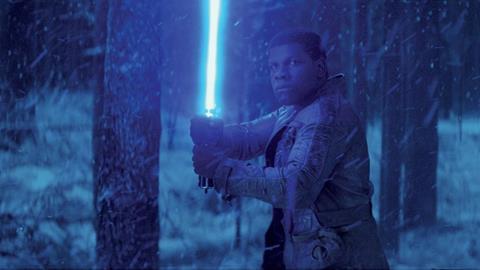 Star Wars: The Force Awakens retained the lead at the Chinese box office during a fairly quiet week between Jan 18-24 when China braced itself for a historic cold spell.
The blockbuster earned $18.18m in its third week, bringing its total to $115.82m after 16 days.
Local animation Boonie Bears III came in second with $13.28m for $33.44m after nine days. The third instalment in the popular TV-originated franchise (which has tended to perform better on weekends) topped the weekend chart two weeks ago and narrowly reclaimed the top daily spot on Sunday.
Another animation, the highly anticipated US-China co-production Kung Fu Panda 3, stole most thunder when it took $6.55m from sneak previews over three hours on Saturday only. The preview box office was strong enough for it to top the daily chart on Saturday and take sixth place overall in the weekly chart.
The other two newcomers were Robert Zemeckis' The Walk, which debuted in fifth place with $6.83m, and local crime-thriller Inside Or Outside which opened in eighth with $3.98m. Both results were from three-day opening weekend.
Director Gary Mak's (SDU: Sex Duties Unit ) Inside Or Outside is a Chinese detective mystery about a businessman who hires a detective to investigate the real father of his new-born daughter, but the two men become the target of a hitman. The cast features popular Korean star Jang Hyuk, Simon Yam and Wallace Huo.
Action film The Last Witch Hunter climbed from fifth to third place in its second week, adding $11.50m from $21.06m after 10 days.
Local action-comedy Detective Chin Tang continued to deliver a solid performance in its fourth week with $7.86m in fourth place. It has amassed $119.81m after 25 days.
Other Chinese holdovers included Royal Treasure, which dropped to seventh with $6.22m for $18.17m after 10 days; The Secret which dropped to ninth with $3.02m for $9.42m after 10 days; and Mr. Six, which rounded out the weekly chart with $3m, extending its total to $136.89m after 32 days.
Fox's animation Alvin And The Chipmunks: The Road Chip opens today [Jan 26].
Kung Fu Panda 3 and Vincent Zhou's Lost In The Pacific will open on Jan 29.