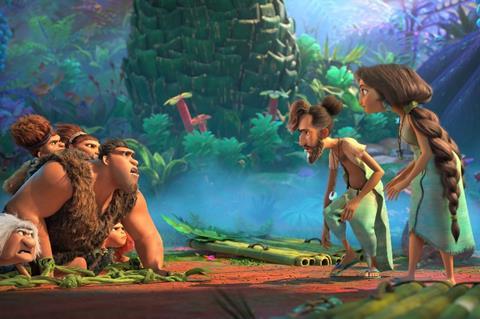 Universal and DreamWorks Animation's The Croods: A New Age headed up the China box office over the three-day weekend (November 27-29), according to figures from Artisan Gateway, grossing $18.9m, almost twice as much as the $9.71m the film grossed in the US over Thanksgiving weekend.
The first The Croods movie grossed $6m (RMB40.1m) on its opening weekend in China in April 2013 and went on to take $60m (RMB394.6m). However, that was during an earlier stage of the market's development, when China had fewer screens, and the film was pulled from theatrical release two weeks earlier than expected by Chinese regulators.
Caught In Time, a crime thriller produced by Hong Kong's Emperor Motion Pictures, slipped to second position in its second weekend, grossing $13.7m for a cumulative total of $59.5m. Directed by Lau Ho-leung, the film stars Daniel Wu and Wang Qianyuan.
Zhang Yimou's One Second, which was abruptly pulled from the Berlin Film Festival in 2019, also opened over the weekend and grossed $10.6m in three days. It's understood that the film, set during China's politically sensitive Cultural Revolution period, has gone through re-shoots and lost one minute of its original running time in order to meet censorship requirements.
Patriotic war film The Sacrifice came in fourth over the weekend with $3.5m for a cume of $167.1m, followed by Adrian Kwan's Find Your Voice, which grossed $1.6m for a cume of $9.5m.
Also opening over the weekend was a re-release of Chinese New Year 2019 blockbuster The Wandering Earth, which opened on November 26 with an additional 11 minutes content and especially low-priced tickets of around $2 (RMB15).
Entitled The Wandering Earth: Beyond 2020 Special Edition, the re-release had grossed $425,000 (RMB2.8m) by Monday (Nov 30) lunchtime. The producers of the film recently announced that a sequel is being prepared for release over Chinese New Year 2023.
According to Artisan Gateway figures, China's total box office over the weekend was a shade above last week with $52.8m. The year-to-date box office has reached $2.49bn, down by 72.5% compared to the same point last year, before Covid had an impact.
This weekend sees the release of Paul W.S. Anderson's Monster Hunter, reuniting producers and talent from the Resident Evil franchise, Universal's The Invisible Man, Edko Films' CGI fantasy Soul Snatcher and the latest installment in Japan's Pokemon anime franchise, Pokémon: Mewtwo Strikes Back – Evolution.